---
---
---
---
---
---
---
Frequently Asked Questions about Krakow with answers
---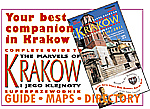 ---
Up to date Krakow, Poland: information, services, resources.

Top attraction and the premier tourist destination in Poland, today's Krakow (dated English spelling "Cracow") is a vibrant city of a million, proud of its long and glorious history, rich heritage, and architectural beauties. For many centuries the capital of the Polish kingdom, nowadays it remains the southern Poland's metropolis and the seat of the Malopolska provincial government. Important as a crucial center of business, culture, and education, Krakow is also famous for its myriad restaurants and nightspots.

Krakow visitor kit

essential
tourist
information
and useful facts

What is it? / Essential facts about Krakow and Poland.

Geography, Weather, Local Government, Population, Economy, Money, History, Culture, Environment, Wildlife, Poland, Malopolska Province, Healthcare, Krakow for the disabled

How to… / Vital information for visitors.

Food, Lodgings, Travel, Krakow Airport, Transport, Safety, Shopping, Communications, Business Visitor Kit, Souvenirs, Children in Krakow

What to do in Krakow? / The city's many appeals.

Landmarks, Museums, Events, Tours, Festivals, Carnival in Krakow, Krakow Christmas, Krakow Easter, Treasures, Entertainment, Schindler's Factory, Jewish Quarter, Parks, Krakow Zoo, Botanical Garden

Where is the fun? / Take your pick of entertainment in Krakow.

Events, Nightlife, Restaurants, Drinks, Cafes, Sightseeing, Shopping, Dancing, Art, Music, Gambling, Strolls, Rides, Theater, Sport, Cinema, Taking photos and video


Get the Krakow companion guide

Piece of news: Krakow's Leonardo da Vinci's masterwork, Lady with an Ermine, on show in the Wawel Royal Castle till the end of April only.

Krakow's Leonardo da Vinci's masterpiece | Wawel Royal Castle in Krakow

Guide to Krakow, Poland

explore
places to visit
and
things to see

What to see? / Krakow's tourist spots and historical monuments.

Wawel Royal Castle, Wawel Cathedral, Krakow churches, Cloth Hall, Town Hall Tower, Basilica of the Virgin Mary's, Skalka Sanctuary, Barbican, City Walls, Collegium Maius, Planty Gardens, Tyniec Abbey, Bielany Monastery, St. Norbert's Convent, Wieliczka Salt Mine, Krakow Mounds, Juliusz Slowacki Theater, Palace of Arts, Old Synagogue, Kazimierz's synagogues

Wow, what a sight! / Singular masterpieces and eye-popping curiosities.

Prettiest Leonardo da Vinci, World's greatest medieval sculpture, Window of awe, Subterranean wonder world, Renaissance pearl, Giant bell, Miraculous images, 8-foot golden crown, Signal trump, Nativity beauties, Krakow mummies, Ice-age rhino, Slavic idol

What makes Krakow so special? / Must-visit places.

Wawel - the Royal Castle and Cathedral, Old Town, Grand Square, Masterpiece of Leonardo da Vinci, Wieliczka Salt Mine, Grand Altarpiece, Collegium Maius, Kanonicza Street, Kazimierz Town, Auschwitz

Why the world cares? / Mankind's most treasured legacies.

Old Town, Wieliczka Salt Mine, Kalwaria Sanctuary, Auschwitz, wooden architecture

Krakow tips

helpful advice
handy hints
and ready
answers

Where to stay in Krakow? / Lodging options.

Krakow hotels, Krakow hostels and guest rooms, Vacation apartments for rent, Booking hotel in Krakow, The meaning of hotel stars, Krakow hotel videos

How to do it on the cheap? / Advice for budget-conscious travelers.

Hostels in Krakow, Holiday apartments for rent, Find free entertainment, Low-cost restaurants, Fast foods, Duty-free goods

Where is it? / Specialized maps of the city.

Map of Krakow, Map of Krakow's Old Town Historic District, Map of Krakow's Kazimierz Historic District, Map of Poland, Map of the Main Roads, Driving in the City Center, Map of the Malopolska Province, Maps of public transport in Krakow

Where the action is? / Places that make things happen.

National Museum in Krakow, ICE Krakow, Sanctuary of Divine Mercy, Sanctuary of John Paul II, MOCAK, International Culture Center, Krakow Arena, Center for Jewish Culture

Krakow insights

know the city
inside out,
go beyond
the surface

Who minds biz in Krakow? / Guide to money matters.

Business Visitor Kit, Conferences in Krakow, Investing in Krakow, Foreign Direct Investment, Krakow Technology Park, Taxes in Poland, Shopping in Krakow, Biggest corporations, List of Krakow lawyers

What next? / Tourist destinations near Krakow.

Auschwitz, Zakopane, Ojcow National Park, Tatra Mountains, Czestochowa, Kalwaria, Wadowice, Rabka-Zdroj, Eagle-nest Castles, Warsaw

When Krakow gets real… / Info for landlords, tenants, and investors.

Real estate and Krakow's property market, Flats and other residential property, Commercial property, List of real estate agents, Buying real estate in Krakow, Selling Krakow's real property

Read
Krakow Forum
the blog of visitors to the city and its residents

Krakow Info - what anyone may need to know about Krakow, Poland.

Krakow Info is an independent information service run by professional journalists, experts based in Krakow, Poland.

New !

Sea Song Festival Shanties February 23rd - 26th | Holy Week's Misteria Paschalia, Krakow's Easter festival of music

---

Use online our photos of Krakow and Malopolska province for free!

Visiting Krakow in Poland. The city attracts a couple of million foreigners every year, while the total number of visitors approaches ten million. Unsurprisingly, given Krakow's reputation as a must-see place, tourists predominate. High season lasts from April to mid-October with another surge of tourism around Christmas and the New Year.

Travel to Krakow, Poland. Its central location in Europe plus good air, train, and road connections make journey to Krakow easy. The main train station and bus depot sit right in the city center. The Krakow airport is situated ten miles from the downtown.

Accommodation. Visitors may stay in over 120 hotels in Krakow, divided into five categories, Other lodging options include numerous hostels, guesthouses, and short-term rental apartments.

Food. There are literally thousands of restaurants in Krakow, from exclusive to inexpensive, which permits everyone to find a suitable place to eat out.