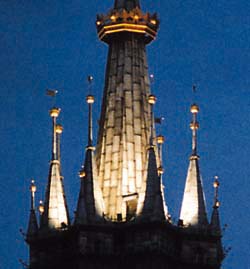 Crowned Tower of St. Mary's Church in Krakow
Crowns top Krakow towers with good reason as the city boasts an official tittle of the ,,Royal Capital City". The most prominent of them adorns the higher, municipal tower of the basilica of the Virgin Mary's (Kosciol Mariacki).
The 81-meter-tall church tower got its fabulous Gothic spire with eight turrets in 1478 after the last two stories had been added in 1408. Yet its crown was mentioned first in 1628. The present octagonal one of gold-plated sheet copper was put 65.5 m above the ground in 1666. It is 2.4 m in diameter and 1.3 m wide. The length of each of its eight sections is 1.2 m. The crown weighs 350 kg.
The Town Hall Tower across the Grand Square is also surmounted with a crown and had a spire with turrets till the 17th century.
Basilica of the Virgin Mary's
The immense Gothic church, Krakow's principal temple since the 13th century, shelters many world-class works of art.

Great Altar
The world's greatest Gothic sculpture

Signal Trump
Hourly musical show in the sky dates from the Middle Ages

Krakow churches
Krakow numerous churches are architectural gems, art hoards, and spiritual hubs
---