Zakopane, the famed mountain resort south of Krakow
Town of Zakopane sits at the foot of the craggy Tatra Mountains (Tatry), the highest part of the Carpathian Mountains. Once an obscure hamlet, Zakopane has become the country's chief holiday destination in the early 20th century and earned the nickname "the winter capital of Poland". Actually, the town is teeming with holidaymakers all year round even if the greatest crowds come in winter and between May and mid-October. March, April, and November are considered the low season but even then the little, sprawling city attracts tourist crowds, notably on weekends.
Vacationing in Zakopane, Poland.
Most visitors arrive to Zakopane for a short break filled with hiking in summer and skiing in winter. The mountains resort is also a popular destination of day trips for residents of Krakow and the region. At the same time, many tourists opt for longer holidays in Zakopane and the town with its environs certainly provides recreational attractions galore to keep a vacationer happy for weeks.
Hikers can take advantage of trails in the contiguous Tatra Mountains National Park totaling some 250 kilometers as well as numerous other tracks in the area. Good conditions for downhill skiing last in the vicinity of Zakopane from November to early on famed upper mountainside of Kasprowy Wierch peak and from December through March on artificial ski slopes closer to the town. Other available outdoor activities include cycling, climbing, cave exploration, swimming, tennis, cross-country skiing, and skating. Yet many tourists come to Zakopane just to enjoy spectacular scenery, crisp air, and such undemanding diversion as strolls, cable-car rides, street performances, sightseeing, varied amusements, etc.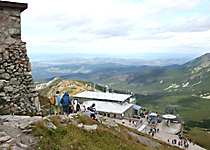 Top station of the cable car atop Kasprowy Wierch (1985 meters above sea level). The bottom station is situated in Zakopane, namely its Kuznice district.
Zakopane can boast nine local museums plus a number of art galleries, a theater company with its own playhouse, and a cinema. The town is renowned for its vigorous folk traditions, the epitome of Poland's gorale highlanders heritage, manifest in local dialect, in the wooden architecture, in customs, in traditional costume – even today proudly worn by the locals – in folk music, and in handicrafts.
As regards Zakopane's once fabled nightlife, it stays pretty energetic today, with plenty of nightspots – clubs, bars, discos, restaurants, or whatever.
Geography of Zakopane
The town of Zakopane spreads out in a narrow valley called Row Podtatrzanski, between Gubalowka ridge and the foothills of the Tatry Mountains to the south.
Noisy and overcrowded pedestrian mall, Krupowki street, forms the backbone of the central Zakopane. Apart from the busy center, the town mostly consists of quiet villages among spruce groves, linked together by potholed streets, bumpy roads, and steep lanes.
Zakopane is situated at the highest altitude of all cities in Poland and its elevation ranges between 750 meters and 1,100 meters above sea level.
Lodgings. Hotels and hostels in Zakopane.
The town boasts accommodation for incredible number of 100,000 visitors. There are nearly twenty hotels in Zakopane, including cosmopolitan four-star operations and a modernist concrete monolith which sleeps 500. Most of them provide decent if undistinguished service. Yet the bulk of available lodgings in Zakopane consist of assorted hostels and boarding houses, from backpacker shelters to homely bed-and-breakfasts to comfy guest houses with a tennis court on the premises.
Trekkers may stay in eight mountain lodges conveniently situated in the most popular parts of the Tatry National Park.
Zakopane is situated barely 100 kilometers from Krakow by road, to the south. Yet driving takes usually as long as two hours due to traffic congestion, speed limits, and tailbacks that result from frequent road works, accidents, and other mishaps. And both motorists and bus passengers should be prepared for a three-hour journey or longer on weekends and public holidays.
The main route from Krakow, popularly known as Zakopianka, leads via Myslenice and Nowy Targ, and it consists of a dual carriageway (a divided highway) between Krakow and Lubien and a two-lane highway for the most of the rest of the distance. The first sixty kilometers of the itinerary, from Krakow to Rabka/Zabornia, correspond to the international highway E7 which is Poland's main trans-European route linking the Baltic Sea with the Mediterranean via Slovakia and Austria; then the national road number 47 meanders from Rabka to Zakopane. At times the highway climbs steeply enough to slow down heavily laden lorries and in winter rigs occasionally fail to get through blocking the road.
There are frequent buses to Zakopane from Krakow's central coach station at 18 Bosacka street. Also minibuses ferry passengers between Krakow and Zakopane. Plus up to ten trains a day run to Zakopane from Krakow Glowny centrally situated main rail station, both expresses and slow trains that cover the distance in 3 hours and 30 minutes or so.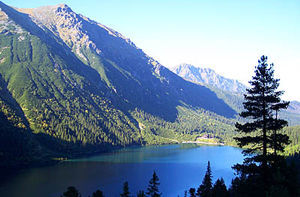 Morskie Oko lake is a must-see of the Tatra National Park.
Weather in Zakopane
The elements are famously fickle in Zakopane and its climate is noticeably harsher than the weather in Krakow. Even sunny summer days tend to be interrupted by fleeting showers, thunderstorms, and gales. An average annual temperature hovers around 5 degrees Celsius. Typically, Julys have the highest average temperature (15 degrees Celsius) while Januarys are coldest with average temperatures or about minus 6 degrees Celsius.
Winds usually blow from the west or the southwest and they aren't strong. A notable exception is a faehn wind called halny, warm and arid, which occurs in autumn, spring, and sometimes winter and may blow for a couple of days exceeding 100 kilometers per hour.
Annual precipitation averages 1,000 millimeters. The biggest rainfall usually takes place in June and July due to frequent rainstorms. As a rule the first snow falls in November and the last of it melts away for good in late March or early April.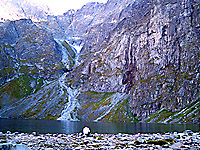 Czarny Staw (Black Pond), the austere sister lake
of the nearby gorgeous Morskie Oko
Museums in Zakopane
Muzeum Tatrzanskie im. Tytusa Chalubinskiego /Tatra Mountains Museum/
at 10 Krupowki street. Phone (+48) 182015205. Web site www.muzeumtatrzanskie.pl
The museum amassed the best collection of the region's village art. It also shows the history and the nature of the Tatry Mountains as well as traditions of their inhabitants.
Willa Oksza (branch of Muzeum Tatrzanskie)
at 25 Zamojskiego street. The 20th-century Polish art inspired by the Tatra Mountains and the local village crafts or created by artists living in Zakopane.
Muzeum Stylu Zakopianskiego im. Stanislawa Witkiewicza (Zakopane Style Museum)
at 18 Koscieliska street. Phone (+48) 182013602. Web site www.muzeumtatrzanskie.pl
The museum in wooden Villa Koliba shows the output of the Polish artists inspired by the Zakopane folk traditions in the late 19th century and the early 20th century.
Karol Szymanowski's Museum (branch of the National Museum in Krakow)
at 19 Kasprusie street. Phone (+48) 182013493.
Biographical museum of composer Karol Szymanowski in wooden Villa Atma where he lived from 1930 to 1936.
Kornel Makuszynski's Museum
at 15 Tetmajera street. Phone (+48) 182012263. Website www.muzeumtatrzanskie.pl
Biographical museum of writer Kornel Makuszynski, author of popular books for children.
Jan Kasprowicz's Museum
at 12a Harenda street. Phone (+48) 182068426.
Biographical museum of Poland's outstanding poet Jan Kasprowicz.
Pod Kuzniczym Mlotem Museum (Zakopane and the Tatras Gallery)
at 6 Place Niepodleglosci square. Phone (+48) 608809469. Web site www.muzeum.podhale.pl
Output of Zakopane artists.
Muzeum Walki i Meczenstwa "Palace"
at 7 Chalubinskiego street. Phone (+48) 182017249.
Exhibition devoted to the martyrdom and the resistance under the Nazi German occupation during WW2.
Muzeum Walk i Meczenstwa "Wiezienie hitlerowsie"
at 37 Nowotarska street.
A former nazi prison houses another exhibition devoted to the martyrdom and the resistance under the German occupation during WW2.
Osrodek Muzealno-Dydaktyczny Tatrzanskiego Parku Narodowego /Tatra National Park Museum and Educational Centre/
at 42a Chalubinskiego street. Phone (+48) 182063203.
Exhibits pertaining to the nature and the history of the Tatry Mountains National Park.
Please note that Zakopane's museums are rather cozy and modest establishments.
Tourist information centers in Zakopane
Tourist Information at 17 Kosciuszki street. Phone +48 182012211, fax +48 182066051. Email info@promocja.zakopane.pl

Tourist Information at 8 Generala Galicy street. Phone +48 182066950, fax +48 182066656. Email office@promocja.zakopane.pl