We support open Internet. Please link to each webpage of Krakow Info website as you wish. We give permission to all hyperlinks and there is no need to ask.
---
No part of this web site and no stuff used herein may be reproduced in any form or media without the written consent of Marek Strzala.
The website's name and logo, and its various titles and headings, are trademarks of Marek Strzala.
Krakow Info website doesn't use cookies nor gathers personal data but advertisers and services providers may do it on their own responsibility. Privacy policy.
In order to inquire about the website and/or to make comments, please write to Marek Strzala, skr. pocz. 724, 30-960 Krakow 1, Poland or email to host@krakow-info.com

Back to Krakow Info, comprehensive online information about Krakow, Poland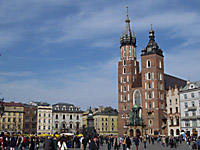 Privacy policy | About Krakow Info | Krakow for mobile devices