See Answers to Frequently Asked Krakow Questions.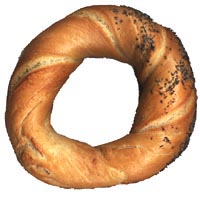 What currency should I bring with me to Krakow, euro or US dollars or sterling?
You may easily change any major currency – from euro and American dollars to Swiss francs to Canadian dollars – in the downtown Krakow when you drop in to a bank or a forex establishment called 'Kantor' in this country (the latter often offer slightly better exchange rates). Plus Krakow's banks may swap practically all world currencies.
Can I pay in euros in Krakow?
Poland is the European Union now but outside the euro zone so the Polish zloty (abbreviation PLN) remains the legal tender in this country. Still some Krakow shops and other establishments accept euros.
How can I get Polish money?
You may exchange foreign currencies in banks, numerous forex establishments called 'Kantor', even most hotels in Krakow. One may also draw with a bank card on ATMs (automated teller machines a.k.a. cash dispensers or cashpoints) scattered amply throughout the city. Plus you may cash travelers checks in Pekao SA bank at the central Rynek Glowny square.
What restaurants do you recommend in Krakow?
Please find good restaurants in Krakow with various cuisines listed at our section about Krakow food.
Is vegetarian food difficult to get in Krakow?
Vegetarian dishes are available practically in every Krakow restaurant though they does not necessarily fit purist vegan standards. Also, there is a number of vegetarian restaurants in the city.
What hotels do you recommend in Krakow?
Please see hotels listed in our section about Krakow hotels and our Krakow lodging guide.
Can I find cheap lodgings in Krakow?
Sure, there are numerous options, from hostels to bed and breakfasts (called 'pensjonat' in Polish) to rental holiday apartments.
How can I get from the airport to the center of Krakow?
By taxi, bus, or shuttle train to the Krakow central train station. Taxi stands in front of the passenger terminals belong to cabbies employed by a subsidiary company of the Krakow Airport. They charge either 69 zloty (PLN) or 89 PLN for a journey to central Krakow. Also, you may phone one of Krakow's taxi calling centers and they will send the nearest cab available. Daytime fare for a ride to the center of Krakow should not exceed the equivalent of 20 euro, and 35 euro anywhere within the city limits but unauthorized taxis may be costlier.
Shuttle trains link the Balice Airport with the Krakow Glowny central station, located close to the Old Town historic district in the middle of the city (the main bus station of Krakow is situated next to the railway station). They run every 30 minutes and the journey takes under 20 minutes according to the timetable. The earliest train to the Krakow Airport leaves from the central station at 4:06 am and the latest one at 11:36 pm. The first and the last departure from the airport station are 5:16 am and 12:18 am respectively. A one-way ticket costs 12 zlotys (PLN). Ticket machines are in the airport terminal, at every station, and aboard the trains and they accept cash as well as plastic money.
Three municipal bus services are available at a stop situated about fifty meters from the International Terminal. Fare is an equivalent of roughly one euro. Line 252 runs to downtown Krakow every 30 minutes or so in daytime between 5:17 a.m. and 11:07 p.m. Line 208 connects the Balice airport with the central bus depot and Krakow Glowny central train station and runs every hour from 4:35 a.m. to 9:20 p.m. Nightly bus 902 operates the same route, leaving every hour or so between 11:20 p.m. and 4:50 a.m. "Fast" bus goes from the airport to the central train and bus stations with few stops in between and runs every hour from 7:50 am to 10:50 pm.
Please note that some Krakow hotels pick their guests up at the airport.
By car, taxi, bus or train. Conversely, buying a day trip seems a good option. During the daytime trains leave for Oswiecim from the Krakow Glowny main rail station almost every hour and buses every 20 minutes or so. The journey takes up to two hours. A single ticket costs an equivalent of about four euros. The train station abuts on Krakow's central Old Town historic district at northeast and the bus depot is situated right behind it to the east.
Can I book a train ticket.
Most long-distance trains require paid seat reservation. You may purchase it on departure together with your ticket at the train station. Conversely, you may buy both ticket and the reservation at any rail station in Poland on 90 days or less before the departure date. One may also book and buy a train ticket online at https://bilet.intercity.pl/irez/ but if nothing has changed you need a Polish address to do this.
Personal
Can you, Krakow Info, find my relatives/friends in Krakow?
No. Please look up in phone directories. Conversely, you may run an advertisement in local newspapers.
How may I trace my Krakow ancestors?
The Krakow chapter of the state archives possibly might help you. It's postal address is Archiwum Panstwowe, ul. Sienna 16, 31-041 Krakow, Poland. Phone (+48) 124224094. They do paid research.
How can I get the birth/death certificate of my parents/grandparents who lived in Krakow?
The municipal register issues the certificates and their duplicates to proven relatives. One may contact it at the following postal address Urzad Stanu Cywilnego, ul. Lubelska 27, 30-003 Krakow, Poland. Or via phone at (+48) 126165519, or fax at (+48) 12126165520. You may also send them a message online at www.bip.krakow.pl/idz or via email at sc.umk@um.krakow.pl
Can I buy a flat (house, other estate) in Krakow?
Yes, though some foreigners who are not EU citizens need a permit to purchase real estate in Krakow. Please see details in our section about Krakow's property market.

Look up concerts, other upcoming Krakow events, updates, and whatever goes on in the city.
---
Communication tips
How to get and stay in touch when in Krakow.
Safety tips
How to be on the safe side in Krakow.
Transport tips
How to move around in Krakow.
Health tips
How to stay healthy in Krakow.
Tips on manners
What does it mean to have good manners in Krakow.