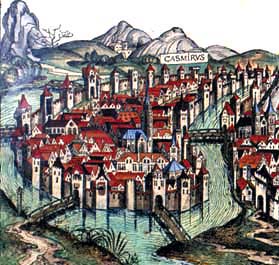 Kazimierz Town
In 1335 King Casimir (Kazimierz in Polish) the Great founded a city at Krakow's doorstep, near the ancient shrine of Skalka, and gave it his own name. He also endowed the city of Kazimierz with immense acreage and trade privileges, and dignified it with two imposing churches– of St. Katherine's in the west and of Corpus Christi in the east. The former is famous for its Gothic high and slender nave with excellent acoustics and for the grand cloister of the adjacent abbey with fine Gothic and Renaissance frescos.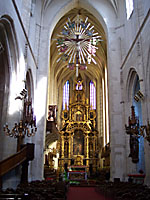 The 14th-century Gothic church of St. Catherine (Kosciol Sw. Katarzyny) is a popular venue for concerts of classical music.
The 15th-century Town Hall amid Kazimierz's Plac Wolnica central square was turned in the 16th century into a Renaissance edifice which now houses the Museum of Ethnography. Whatever was its king-founder's intention, the town of Kazimierz remained dwarfed by the nearby capital city and became Krakow's part in 1800.
The transfer of Krakow Jews to Kazimierz in 1495 gave rise to its once bustling Jewish quarter which proved to be one of the most important centers of the Diaspora in Eastern Europe for the next three centuries.
Since the 1990s the Kazimierz district, notably its northern part where the Jewish town once thrived, has become as self-consciously trendy as they come. Now much of nightlife in Krakow is concentrated in the area stretching just a couple of blocks south of the central Old Town with its Plac Nowy square declared the hub of the city's bohemian life. Also a number of Krakow's fashionable restaurants have opened in the area.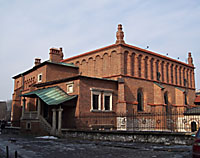 Old Synagogue, one of seven historic synagogues in Krakow, dates from 1570.
Note: Parking a car on any street in the entire Kazimierz district is paid from 10 a.m. to 8 p.m. on weekdays. Motorists should know how long they want to stay, buy a ticket for the period, and leave it behind the front windshield.
See map of Krakow's Kazimierz historic district
Watch online videos of Kazimierz
Stroll through Krakow's Kazimierz District
Skalka Sanctuary
Poland's second holiest shrine at the site of St. Stanislav's 1079 martyrdom. Splendid Baroque church and fine monastery modeled on a Renaissance castle
Jewish Quarter
The Kazimierz Jewish quarter was the safe haven for Jews from every corner of Europe till the 20th c. and a major center of the Diaspora.
Synagogues in the Kazimierz historic district
---
Krakow
Poland's prime tourist attraction and a must in Central Europe boasts numerous world-class monuments, charming vistas, delightful atmosphere, and the best restaurants.
---
In the proximity of Krakow
Krakow is Poland's tourist mecca, and also a gateway to many other must-see sites in the region.