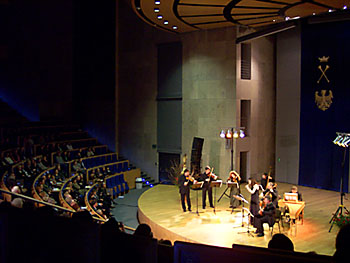 Centrally situated Auditorium Maximum of the Krakow university, 35 Krupnicza street,
often doubles as a music hall for 1,200.
Krakow, the city of music
Krakow's Old Town historic area resounds with music of every kind as street musicians vie for your attention and spare change at every corner. More demanding audience may choose between frequent concerts and recitals of classical music and diverse musical offerings of numerous clubs. There is also no shortage of shops selling CDs in downtown Krakow where the latest releases of the world's top acts are available as soon as they are launched in Paris or Berlin. Radio stations mostly fill the local airwaves with recent international hits and their domestic counterparts as well as pop evergreens, though a few specialize in jazz or classical music. The Old Town's huge central Krakow main square (Rynek Glowny) often serves as an open-air concert venue when some ensemble (usually a pop band) takes up the makeshift stage by the Town Hall Tower.
Note: Every full hour a Krakow trumpeter plays the city's famous medieval bugle call (hejnal in Polish) from the tower of St. Mary's church overlooking the central square - always four times, towards four directions of the world.
Listen to the Krakow bugle call
Krakow's musical trends
Single personality towered for very long above the musical scene in Krakow – Mr. Krzysztof Penderecki (1933-2020) who ranks among the world's greatest composers of modern classical music. Nonetheless the latest works are rarely performed in Krakow, and even renderings of the 20th-century classics happen rather seldom as the well-known 19th-century and earlier music is the king in the city's concert halls.
In the 21st century Poland's mass audience remains firmly tuned in to pop performed by the British and American acts as well as the native ones. The latter often take inspiration from the musical traditions of various peoples in the Central-East Europe. Yet it has little bearing on the city's vibrant club scene divided between varied DJ sets, alternative pop and indie rock, hip-hop, blues, reggae, traditional rock and mainstream jazz popular with club operators.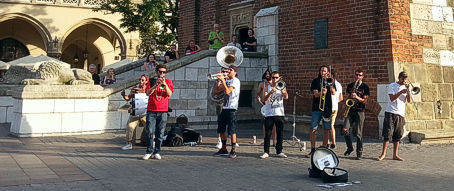 Most popular venues for music in Krakow
Krakow Philharmonic Orchestra plays regularly in its Filharmonia concert hall at 1 Zwierzyniecka street where also most foreign orchestras, ensembles and soloists perform on their visits to the city as well as the city's other musicians. The hall also resounds occasionally with pop music.
For decades, the Krakow Opera Company had to make use of the immense stage and plush auditorium of the Teatr Slowackiego theater at Sw. Ducha Pl. which often provides shelter to varied musical events. Since December 2008 the brand-new, purpose-built opera house at Lubicz street has become the city's main venue for operatic productions as well as operetta shows and ballet performances.
The Krakow Chamber Opera has its playhouse at 15 Miodowa street in the Kazimierz district.
Krakow's classical-music orchestras, ensembles, choirs, etc. usually give concerts in smaller halls such as Florianka at 8 Basztowa street. Also, they often lease the city's Gothic churches, famed for their splendid acoustics, for a night or two. Throughout summer there are frequent open-air concerts – in gardens, the Old Town's beautiful courtyards, on squares, etc.
Since 2014 the city has been endowed with two modern venues for large-audience entertainment - Krakow Arena and ICE Krakow congress center. At the former, seating capacity of up to 18,000, concerts alternate with sporting events. The latter boasts three halls - they may seat 2,000, 600, and 300 respectively - with reportedly superb acoustics which allows for three concerts (or conferences) to take place simultaneously.
Krakow clubs are plentiful but usually not large – few can seat more than 100 and those with a seating capacity of 200 or more are considered really big. Recorded music is the staple, with live performances two or three nights a week.
Some Krakow DJs gain local fame, while club celebrities from other Polish cities and from abroad spin here occasionally too. Krakow's DJ-produced 'club music' is restricted practically to Friday and Saturday nights and it largely boils down to house though some places do try diversify into breaks, jungle, drum'n'bass, nu jazz, progressive, and whatever.
Obtaining tickets for musical events in Krakow
Tickets are available through various channels and it often happens that tickets for the same event are sold in many places. As regards bigger events, notably the mass-audience ones, tickets are channeled through booking websites, such ebilet or Live Nation. On the other hand, the admittance to many concerts in Krakow can be gained at their respective venues shortly before the event. The Krakow Philharmonics and the Krakow Opera offer booking via their own websites. Also the municipal tourist information offices sell tickets for many events.
Musical yearly events in Krakow
February: Sources and Inspirations International Percussion Festival, Shanties International Festival of Sailor Songs
March: Bach Days festival, Krakow Cello Spring.
Holy Week: Misteria Paschalia festival of classical music.
April: Festival of Krakow Composers, Piano Duo Festival in Krakow, The Old and The Young' International Jazz Festival.
May: Orthodox-Church Music Meetings, Krakow Film Music Festival, Days of Mendelssohn's Music.
June: Selector Festival (electronic music), Summer Festival of Opera and Operetta, International Festival of Military Bands, Jewish Culture Festival.
July: Festival of Polish Music, Summer Jazz Festival, Tyniec Organ Recitals, Summer Organ Concerts, Crossroads Festival of Traditional Music, Benedictine Music Summer.
August: 'Music in Old Krakow' International Festival, Summer Academy of Music, Tyniec Organ Recitals, Summer Organ Concerts, Coke Live Music Festival, Contemporary Chamber Music International Competition, 'Cracovia Danza' Festival of Court Dance.
September: Sacrum-Profanum Festival, Young Artists in Krakow Festival.
October: , Royal Cracow International Piano Festival. Cracow Jazz Autumn, 7xGospel, Unsound Festival, Student Song Festival.
November: 'Zaduszki' Jazz Festival, Krakow Musical Autumn, All Souls Organ Music International Festival, Organ and Harpsichord Music Days, Audio Art Festival, Days of Church Music.
December: 'Jazz Juniors' International Competition of Young Jazz Bands.
Krakow Culture
It is most important in this city.
---
---
Yearly Cultural Events in Krakow
---
---
EVENTS
Updates on current and upcoming events.
---