The ultimate Krakow guidebook.
attractions

landmarks

museums

restaurants

hotels

entertainment

travel
Visit our
Krakow news
section.
Learn the updates on current and upcoming
Krakow Theater
Krakow features prominently on the theater map of Europe. Its legendary National Stary Theater counts among the continent's best companies of players. As the rest of the city's repertory theaters it runs several playhouses of varied capacity.
More on Krakow theaters
---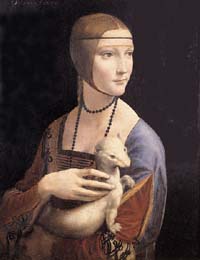 Museums in Krakow
Krakow boasts the best collections in Poland, and some of its treasures are the envy of every museum in the world.
More on Krakow museums
Thanks to its maximum seating capacity of 18,000 or so, the Krakow Arena easily surpasses in size any other indoor stadium in Poland and ranks among Europe's largest venues of this type. It also beats other domes on such counts as novelty or versatility.
ICE stands for International Conferencing and Entertainment. Its main Auditorium Hall can seat 2,000 people. The seating capacity of two other, smaller halls is 600 (Theater) and 300 (Chamber Hall) respectively. Plus there is so called Conference Hall Complex of 11 rooms seating 35 people each.
Go to the ICE Krakow congress center
The Manggha Center of Japanese Art and Technology
Krakow's outpost of the Japanese creativity and ingenuity is the biggest such institution in the whole Central and Eastern Europe. The Center's wave-shaped building on the bank of the Vistula river just opposite the Wawel Hill houses the Japanese treasures amassed by a wealthy Polish connoisseur, Feliks "Manggha" Jasienski, by the end of the 19th c. The Manggha Center organizes various temporary exhibitions, concerts, presentations, etc., pertaining mostly but not exclusively to Japan's national heritage or its present-day achievements.
Go to the Manggha Center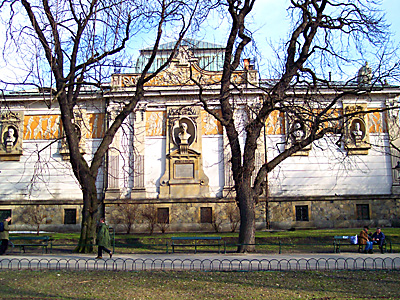 Palace of Arts
The Palace of Arts was erected in 1901 for the Society of Fine Arts Friends. Krakow's first Art Nouveau building has remained one of the most prestigious exhibition venues in the city. Once mostly works of established value can be seen here yet nowadays purely commercial events also happen.
Go to the Palace of Arts
Bunker of Arts
A modern exhibition hall of gray concrete amid ancient landmarks of Krakow's historic Old Town district, has been dubbed "the bunker" before long. The contemptuous label was embraced by its managers who turned their 'Bunker of Arts - The Contemporary Art Gallery' into a stronghold of the avant-garde.
Go to the Bunker of Arts
Krakow Opera House
The complex of the Opera House in Krakow, built in 2008, contains three theaters, foyer that doubles as an exhibition and/or lecture hall, box offices, and a restaurant. It's the city's main venue for opera, operetta, and ballet shows.
Go to the Opera House in Krakow
Conference Facilities in Krakow
The city's rich cultural and social milieu, beauty of its central historical district, accessibility, good hotels, vibrant club scene, and profusion of restaurants and cafes makes Krakow superb location for congresses and conferences.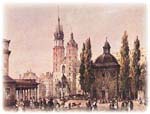 Grand Square
Krakow's central square, the largest of medieval European cities, is arguably one of the world's most beautiful plazas. It boasts a plethora of landmarks and myriad restaurants, clubs, and cafes.
Go to the Grand Square
Sanctuary of Divine Mercy
Krakow's modern Sanctuary of Divine Mercy in Lagiewniki district has become one of the world's top destinations for the Catholic pilgrims.
Go to the Sanctuary of Divine Mercy in Krakow
International Culture Center
Krakow's International Culture Center was founded in 1990 to facilitate the intercourse between peoples of different cultures. Its main field of interest is the cultural heritage of the Central Europe. The center engages in a wide range of activities: from research to education to art presentation to information services.
Go to the International Culture Center
Center for Jewish Culture
The Center for Jewish Culture, set up amid Krakow's former Kazimierz Jewish Quarter in 1993, protects the heritage of Poland's Jews, popularizes it, and conducts research. Its site in the former 19th-century prayer house at 17 Meiselsa street is the venue of numerous shows, recitals, conferences and other cultural and scholarly activities.
Go to the Center of Jewish Culture
Villa Decius
Krakow's Villa Decius, the Renaissance mansion built c. 1530 for a powerful secretary of King Sigismund I the Old, is one of Poland's best palatial suburban residences. Now it shines again after a thorough renovation as Krakow's home to the European Academy.
Go to the Villa Decius
Piwnica Pod Baranami Cabaret Company
It might have happened in Krakow alone that a cabaret was elevated to the rank and authority of a national institution. Sure, since its birth in 1956 the Piwnica Pod Baranami in the cellar of the Pod Baranami palace at 27 Grand Square has been a very special brand of high-brow entertainment: a literary variety show with poetic songs and mostly pure-nonsense humor (both being its hallmarks till now). And the cabaret company of Piwnica Pod Baranami has proved over the past four decades a magnet for outstanding personalities of at least three generations.
Go to the Pod Baranami cabaret