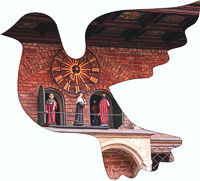 Tips for the Business Visitor Coming to Krakow
Visas: Visitors from the member-states of the European Union and/or NATO as well as other Western European nations do not need visas to enter Poland. Otherwise, when a country wants Polish citizens to acquire a visa the general rule is that Poland requires citizens of that country to secure one for admission to Poland as well.
Apart from the citizens of the EU countries - and Switzerland, Iceland, Liechtenstein, and Norway - all aliens need a visa to reside in Poland beyond 90 days. Nationals of EU member states as well as Switzerland, Iceland, Liechtenstein, and Norway need to register their stay in Krakow when it lasts longer than three months.
Anyway, when planning to visit Poland businesspersons from outside the European Union should rather check with the nearest Polish consulate for the current entry requirements.
Note: Krakow's Office for Civic Affairs and Foreigners, Wydzial Spraw Obywatelskich i Cudzoziemcow Malopolskiego Urzedu Wojewodzkiego, is situated at 6 Przy Rondzie street (ground floor). It handles formalities pertaining to visa extension, permanent and temporal residency, work permits, etc. Opening hours are 9 a.m. to 5 p.m. on Mondays and between 8 a.m. and 3 p.m. on Tuesdays, Wednesdays, Thursdays, and Fridays
Employment: Foreign businesspersons, as any aliens from outside the European Union, need work permits to be employed legally in Poland.
Travel: There are regular direct flights to the Krakow International Airport from major European hubs such as Amsterdam, Berlin, Brussels, Frankfurt, London, Paris, Rome, Vienna, and Zurich, as well as Barcelona, Budapest, Bristol, Cologne, Copenhagen, Dublin, Dusseldorf, Edinburgh, Leeds, Liverpool, Madrid, Milan, Moscow, Munich, Oslo, Stockholm, and some other destinations. Transit connections via Warsaw link Krakow with New York, Los Angeles and Miami in the USA, and with Bangkok, Brussels, Cairo, Damascus, Dubai, Helsinki, Istanbul, Kiev, Larnaca, Lyon, Minsk, Beijing, Riga, St. Petersburg, and Vilnius among other destinations. Express trains from several European capitals, such as Austria's Vienna, Czech Prague, Germany's Berlin (and Hamburg), Hungary's Budapest, Rumania's Bucharest, and Ukraine's Kiev, run to or through Krakow. Also, there is express train shuttle service between this city and Poland's capital Warsaw in addition to express railroad links with all big cities in the country. And no place in Poland is so easily accessible from the entire Europe by car as Krakow.
When in the city, the most convenient means of transport are taxis – cheap, plentiful, and largely dependable.
Note: Natives often use a dated English spelling for the name of the city, Cracow. The original Polish spelling is Kraków.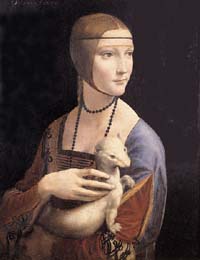 Leonardo da Vinci's Lady with an Ermine
in Krakow's Czartoryskich Museum is a must-see
Communication: Public phones are still available throughout Krakow in street booths, post offices, and other public venues – they can be fed with special cards with a chip, available at the nearest newsstand. If you bring a cell phone from abroad, it will probably work in Krakow as in any other city in the European Union.
In the open air wireless Internet is available on the Rynek Glowny central square plus the adjoining streets to the south and in the Kazimierz historic district near the Old Synagogue. Also, WiFi hotspots are accessible in many cafes in Krakow as well as shopping centers and other public spaces. There a few Internet cafes in the city center though they are usually hard to spot.
Tip: Never bet overly on the language skills of the Krakow natives, on average they speak English only somewhat better than Frenchmen.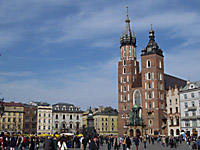 Rynek Glowny, Krakow's huge central square at the heart of the Old Town historic district remains the city's social hub.
Currency: The zloty (zl), divided into 100 grosze (gr), is the he Polish currency. Denominations in circulation: notes zl10, zl20, zl50, zl100, zl200, and coins: zl1, zl2, zl5, gr1, gr2, gr5, gr10, gr20, gr50. Gold and silver collector coins of higher denominations are also a legal tender but their actual worth far exceeds the face value. The zloty is convertible, see the current exchange rate at our Krakow News section.
Paying: Cash payments are still most popular in Poland. At the same time, major credit cards are accepted practically everywhere except the smallest establishments. But nobody pays by check. ATMs are plentiful in downtown Krakow.
/more on money matters in Krakow/
Electricity: 230 volts, 50 Hz AC, continental (two-prong or three-prong with built-in grounding plug) outlets.
Weights and measures: Metric.
Time: CET as Berlin or Vienna, i.e. GMT/UTC plus one hour.
Business hours: Polish office workers usually start at 8 a.m., have an eight-hour day without a normal lunch break, and leave at 4 p.m. Business pauses on weekends. Banking hours are different in different banks, yet most branches open at 9 a.m. or 10 a.m. and close at 6 p.m. or 7 p.m. on workdays. Most of Krakow's downtown shops remain open till 7 p.m. and beyond on weekdays, while some grocery stores trade round the clock. Most stores sells also on Sundays, usually till 3 p.m. Most shopping centers in Krakow stay open between 10 a.m. and 10 p.m. Monday to Friday and till 8 p.m. on weekends.
Holidays: New Year's Day, January 6th (Epiphany), Easter Sunday and Monday, May 1 (Labor Day), May 3 (Constitution Day, Corpus Christi Feast, August 15 (Assumption), November 1 (All Saints Day), November 11 (Independence Day), December 25 and December 26 (Krakow Christmastide).
Dates and numbers: Day, month, year is the regular order in dates, so July 4, 2016 is 04.07.2016 in brief. Thousands are usually denoted by blanks and sometimes periods (1 000=1.000=one thousand) whereas fractions are separated with commas (1,5 equals one and half).
Local customs: Foreigners are welcome by Krakow residents. Any place save home and any time save merrymaking is good for talking business here.
When eating out, business is a legitimate topic before, during and after meal. It is usual to say 'smatchnago' (bon appétit) before eating, and 'na zdrovye' (cheers) before drinking.
On visiting people's homes standard courtesies are observed. With hugging and cheek kissing reserved for relatives of any gender and for close friends of the opposite sex, universal handshakes customarily begin and end every encounter. (Note: during negotiations in Poland a handshake means rather "talk is over" than "it is a deal".) It is important to take business cards to meetings and give one to each person present.
Politeness in Poland requires men to open doors for women and generally let them lead, the same applies to your seniors and guests of any sex.
Flowers are very popular with Poles who give them on many occasions, notably birthday and name-day celebrations, weddings and visits to Polish homes.
Casual wear befits most social occasions, but you'd better dress up for evening entertainment, dining out, or theater.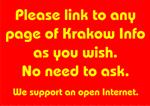 ---
Foreign Direct Investment in Krakow
New Town in the Center of Krakow
Krakow's Biggest Industrial Corporations
---
Basic Krakow info for visitors
---
Dining Guide to Krakow Restaurants
Conference Facilities in Krakow
---