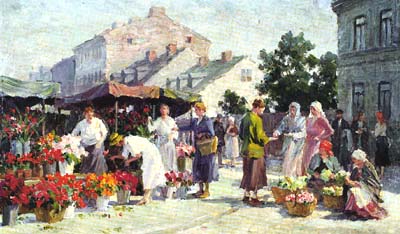 Kleparz Pl. by the Old Town historic district, the best-known of Krakow's numerous markets,
has changed little since the above scene of shopping for flowers was painted some 70 years ago.
Go Shopping in Krakow, have fun.
Krakow's central Old Town historic district, mostly turned into a pedestrian precinct, is stuffed with shops of all sorts. Diverse retail stores line every street in the area teeming with shoppers. At its main commercial strips – Florianska Street, Szewska Street, Grodzka Street, or Slawkowska Street – various retailers are crammed into almost every available space: front and the backyard, ground floor, upstairs, cellar, even attic here and there. Their wares vary from designer garb to jewelry to antiques to books to sportswear to everyday necessities.
At the same time the natives have acquired a taste for brand-new shopping malls in Krakow and sizeable shopping centers accompanying the giant hypermarkets foreign retailing giants such as France's Carrefour and Britain's Tesco studded the city with. Nonetheless, in every part of Krakow, traditional marketplaces swarm as ever with bargain hunters and shoppers looking for produce fresh from the farm.
Note: Shops in Poland are closed on major national holidays, namely New Year, January 6th, Easter, May 1st, May 3rd, Whit Sunday, Corpus Christi, August 15th, November 1st, November 11th, and Christmas (December 25th and December 26th).
Since 2018 a partial ban on Sunday shopping has been introduced in Poland. So in 2019 stores are allowed to open on the following Sundays: January 27th, February 24th, March 31st, April 14th, May 26th, June 30th, July 28th, August 25th,September 29th, October 27th, November 24th, December 15th, December 22nd, and December 29th.
Some pharmacies, some groceries, and all gas stations may stay open every day. The ban on Sunday shopping doesn't apply to bakeries and flower shops.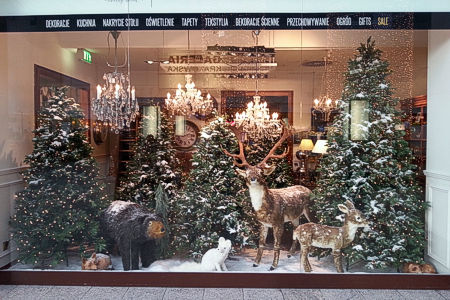 The festive season's shop window in a shopping mall in Krakow.
Sales, discounts, and other bargains in Krakow, Poland.
Clearance-sales seasons in Krakow shops take place twice a year. Every retailer has its own timetable and it often changes from year to year, yet winter sales prevail in the city from mid-January through February. And July to mid-August there comes time for massive summer discount sales. Price reductions range from 30 percent to 50 percent to solid 70 percent off. What makes Krakow's bargain hunting more exciting is the fact that few retailers cut their prices across the board and many, notably the smaller ones, post up spectacular discounts but they apply only to a token number of items.
On the other hand most Krakow stores lure customers throughout the year with special promotions and limited rebates for selected goods. Also, there are pretty many factory outlet stores and discount shops in the city.
Paying for your Krakow purchases.
Poland has its own currency, Polish zloty (plural zlote, abbreviation PLN), and it's the legal tender in the country. Since Poland is the member state of the European Union, shops are allowed to accept euro as well. Yet even as some retailers, notably big hypermarket chains, can boast cash registers that process transactions in euros, most establishments don't bother with them and take the Polish zlotys only.
All major currencies are easily convertible into Polish zloty. The exchange rates have stayed pretty stable for long at the level of about four zlotys per euro.
You may pay either in cash or with a major payment cards, credit or debit, such as Visa or MasterCard. The plastic money is widely accepted by shops and restaurants in Krakow save the smallest establishments.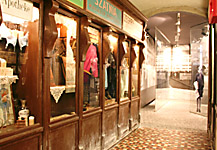 Krakow's wartime street recreated in Schindler's Factory.
Shopping guide: your purchasing power in Krakow.
Buying clothing for men in Krakow.
Menswear with internationally recognized labels, such as Pierre Cardin or Hugo Boss, occupy the higher end of the market in Poland but expect neither bargains nor the latest fads in Krakow's shops. Domestic garment industry produces solid clothes at solid prices. Three-piece suits start under 300 euro, leather jackets at 200 euro or so. At the market's lower end, taken up by local clothiers, jackets are for about 50 euro, trousers 30 euro, coats 120 euro, lamb-wool turtlenecks 40 euro, etc.
Buying clothing for women in Krakow's stores.
Those bent on the likes of Versace and Gianfranco Ferre may come by leftovers of some last year's designer pret-a-porter collection in one or another of Krakow boutiques. Yet the mainstream women's clothes in downtown stores and shopping malls arrive from the mid-size Polish and European garment makers whose labels are often obscure beyond the national borders. Internationally recognizable labels with strong presence in Krakow are Zara and H&M. Most evening dresses are priced at about 400 euro, skirts at 100 euro, women's coats at 350 euro. And plenty of small boutiques throughout the city sell the output of midget local producers, in that number happen shops specializing in (very) limited series by Krakow's aspiring young designers.
Shopping in Krakow for casual and sportswear.
One finds outlets trading exclusively in the wares of Levi's, Wrangler's, Adidas', Nike's, Benneton's and the like everywhere in downtown Krakow and in the city's shopping malls. The same with their less known and sometimes cheaper competitors. A pair of Levi's 501 is usually available for roughly 80 euro.
Footwear in Krakow's shops.
Fashionable high heels come with price-tags of euro 90 to 200. Quality men's shoes may cost anything between 80 euro and 350 euro. On average the world-brand sneakers, be it Nike or Puma or Addidas, cost an equivalent of about 80 euro.
Purchasing books and magazines in Krakow.
Besides books in Polish most of Krakow's downtown bookstores have a limited stock of paperback foreign literature, mostly classics and recent bestsellers in English, German and French. They often sell the best-known foreign weeklies and magazines as well. Also newsstands in the biggest Krakow hotels vend foreign press. But do not be surprised that a copy of a day-old newspaper costs sometimes tenfold the cover rate, whereas most foreign magazines are reasonably priced.
Buying music and film in Krakow.
New CD releases of international stars and Hollywood movies on DVD and Blue-rays are available in Krakow about the time they are launched in the Western Europe. Big-name CDs cost 10 to 15 euro or so. Blockbuster DVDs sell for about fifteen euro, Blue-ray discs for roughly 25 euro. Many older movies are available at DVD format for as little as an equivalent of four euro or less.
Shopping for food in Krakow.
The nearest grocer and/or a local supermarket remains a main source of foodstuffs for most Krakow dwellers though a great many of them opt for purchases by cartload in one of the mushrooming 'hipermarkets'. There are also loyal patrons of marketplace stalls trading in fresh farm products. Anyway, local staples generally hold their ground against imports, though the latter have largely taken to themselves the up-market niches. Average bread loaf costs one euro or so, a six-pack of the Polish beer is an equivalent of six euro, price of kilogram of domestic apples equals one euro or so, the average cost of imported French cheese is some 15 euro a kilogram.
Thousands of stores sell goodies in Krakow.
---
Souvenirs of Krakow
Make everybody happy back home with a gift from Krakow.
Krakow Galleries
Enrich yourself with a first-rate work of art at a very reasonable price.
Krakow Foodstuffs
Tips on getting Krakow's bread and butter as well as other dairy products, fruits, vegetables, meat, seafood, etc.
---
Buying real estate in Krakow
You can still get property cheap in Krakow. But with a couple of million euro you may have a centuries-old palace.
---
There are over 25,000 welcoming Krakow beds, available in the city's hotels, hostels, guest rooms, and the like hospitable establishments.
Dining guide to good restaurants in Krakow
---