Good restaurants and various other eateries that offer quality food are found throughout the city. Yet Krakow's historical Old Town central district seems virtually stuffed with establishments catering to all kinds of diners. Here, within easy walking distance, one discovers hundreds of restaurants, cafes, bistros, grills, pizzerias, salad bars, etc. They are lodged in every available space of the area's old palatial residences and stately burgher houses – upstairs, downstairs, and most willingly in those vast ancient cellars. No doubt, the exquisite and picturesque period interiors are a premium. And from springtime through autumn the restaurant tables take up the streets of the mostly pedestrian precinct.
A couple of blocks south another scenic downtown district, Kazimierz famed for its past Jewish quarter, also boasts numerous eateries. And still further to the south is the city's newly established gastronomic frontier in historic Podgorze town across Wisla river.
Krakow restaurant traditions.
Krakow gastronomy has a long and glorious tradition that dates back to the famously lavish medieval and Renaissance feasts and the Baroque extravaganzas of Polish gentry gourmets. And the city's legendary restaurants of the past two centuries are fondly remembered. Yet recent decades have brought about a genuine restaurant explosion owing to the hectic efforts of aspiring restaurateurs, native as well as immigrants.
Trends in the restaurants of Krakow.
Currently fusion cooking seems to be all the rage among the city's trendy chefs. Yet a creative adaptation of the old Polish cuisine is still in vogue. Also a revival of the local folk cookery goes on. On the other hand Far East foods, once exotic, appear to have become almost staples nowadays. At the same time Krakow restaurant patrons occur enamored of fine French and Italian cuisine more than ever before.
Good restaurants in Krakow.
Any following information has been provided by respective restaurants on their sole responsibility.
CK Browar
Polish cuisine.
Address: 7 Podwale street.
Phone: (+48) 124292505
Website www.ckbrowar.krakow.pl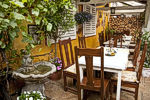 Corleone
Italian cuisine
Address: ul. Poselska 19. Phone: (+48) 124295126. Website www.corleone.krakow.pl Email corleone@corleone.krakow.pl Located on Poselska Street, a quiet strada close to the Main Square, Corleone offers great Italian fare inspired from the Sicilian town whence it derives its name name. In this elegant yet cozily appointed locale, a wealth of flavorful food is for the picking under the watchful gaze of Italy's movie stars whose photographs adorn the walls. Appetizers such as the carpaccio, or the foie gras are great precursors to homemade pasta prepared in myriad ways. Follow up with the exquisite beef sirloin or roast duck with figs, or the outstanding selection of seafood touched by a spicy Sicilian accent - the focus on quality reflected by the fact the place receives a shipment of fresh fish and seafood twice a week. The wine selection mostly from Sicily and Tuscany blends perfectly with the cuisine, and finally award-winning desserts such as the ice cream spaghetti are your light at the end off this remarkable culinary tunnel!
Corse restaurant
Corsican cuisine.
Meal for two without wine - about 35 euro
Address: 24 Poselska street. Website www.corserestaurant.pl
Phone: (+48) 124216273.
Del Papa restaurant
Italian cuisine.
Everyone who likes Italian cuisine will find here traditional dishes from there such as vitello tonnato, beef and fish carpaccio, minestrone soup or tiramisu, tasty and crunchy - thin based - pizza and big choice of pasta. There are also less traditional - meat and fish - dishes and delicious seafood. Mussels, served here every Thursday, are famous for being the best mussels in Cracow.
Meal for two without wine - about 30 euro
Address: 6 Sw. Tomasza street. Website www.delpapa.pl
Phone: (+48) 124218343.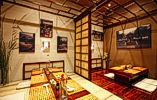 Edo Fusion & Edo Sushi Bar
Japanese cuisine.
What distinguishes Edo Sushi Bar (now called "the old Edo") is its constant adherence to the traditional methods of Japanese cooking, which has won this oldest sushi-bar of Krakow the appreciation of culinary critics and numerous regular customers. In the menu of the new Edo Fusion there are interesting dishes of the Japanese provenance enriched with flavors and aromas evoking Thai, Mexican, and Mediterranean reminiscences.
Meal for two without wine - about 25 euro
Address: 3 Bozego Ciala street and 8 Miodowa street.
Phone: (+48) 124222424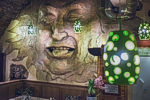 Gehanowska-Pod Sloncem Restaurant
Polish cuisine.
No. 43 on the Main Square houses restaurant Gehanowska-Pod Sloncem. Pod Sloncem simply means under the Sun. The place opens up as early as 8 am serving excellent breakfast. Down in the cellars, which date back to the Middle Ages, one can settle down in one of the cozy booths and enjoy from the restaurant's more elaborate menu consisting of salads, soups, various meats, and fish. The chicken with bacon, mushrooms and tomato; the grilled steak cooked to perfection; and the trout with dill sauce are all very popular. As is the outstanding coffee, desserts, and beers and cocktails served through the day. With terrace seating on the Main Square, this place offers a wonderful, comprehensive experience in the heart of all of the action.
Address Krakow, Rynek Glowny 43.
Phone: +48 12 422 93 78.
E-mail: kontakt@gehanowska.pl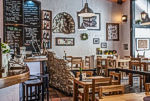 Guliwer restaurant & cafe
European cuisine.
Guliwer Cafe & Restaurant is a little, cosy eatery situated at Bracka street, literally 100 meters from the Old Town's Rynek Główny central square. It's ideal for those who seek a place in the very heart of Krakow where one may have a tasty breakfast - or lunch, or dinner - in a casual atmosphere, sip a glass of excellent wine, or indulge oneself in splendid coffee or hot, thick chocolate. Till late evening hours we serve dishes based solely on healthy, natural ingredients, with a great deal of herbs and without any artificial improvers! The cakes we recommend and excellent creme brulee are made every day on the premises by our cooks.
Meal for two without wine - about 35 euro
Address: 6 Bracka street. Website www.guliwer-restauracja.pl
Phone: (+48) 124302466.
Pimiento
Argentine steaks.
Natives of Krakow as well as visitors admire the Pimiento Restaurants for their fantastic beef, imported from Argentina directly to their kitchens. Having a wide range of beef to choose, they guarantee an unforgettable culinary experience.
Meal for two without wine - about 45 euro
Addresses: 13 Stolarska street (the Old Town), phone: (+48) 124226622 & 26 Jozefa street (Kazimierz district), phone (+48) 124212502.
Website www.pimiento.pl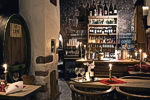 Pod Aniolami restaurant
Polish cuisine.
The Pod Aniolami – "Under the Angels" restaurant is an extraordinary place, famed far and wide for its marinated meats, grilled over beech hardwood fire, and other old Polish dishes. The restaurant's historical 13th-century interiors and brilliant cuisine, based on the Polish culinary traditions, will make you soak up the atmosphere of the Medieval Kings' City of Cracow. At "Under the Angels" time stood still and one can still find the ambience of old Cracow here. Beautiful interiors and excellent cuisine attract renowned guests from all over the world. On the ground floor we invite you to The Chamber of the Wawel Castle's Comptroller where one can admire the 18th-century polychromes during private banquets. There is also a charming year-round open garden with a mosaic fountain to which one can always drop a coin wishing to come back to this unusual place.
Meal for two without wine - about 40 euro
Address: 35 Grodzka street.
Phone: (+48) 124213999.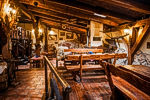 Stodola
Polish cuisine.
We cordially invite you to our restaurant located in the heart of Krakow's old town. The unique atmosphere, unforgettable style, and true quality have been appreciated by our satisfied guests. Our menu is rich and varied, you can choose from tasty meals, good beer, and delicious drinks. The chef's specialty is game. By visiting us you will be convinced that "Stodola 47" is an excellent venue for a meeting with friends and family as well as any event such as wedding, birthday parties, etc. Our restaurant can accommodate up to 90 persons and is open from noon. Visit us and enjoy.
Address: ul. Florianska 47
Phone: (+48) 122924925
Website: www.stodola47.pl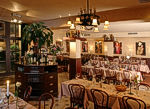 Szara Kazimierz restaurant
European cuisine.
The Szara Kazimierz Restaurant is located on Szeroka street, where for more than 20 years has been organized Jewish culture festival. The Szeroka street is actually not a street but a wide and beautiful square where You will find Jewish bookshops cosy coffee shops and hotels. The Szara Kazimierz is a place with amazing atmosphere and food, with Michelin recommendation awarded 6 years in a row. Here You can eat international food with elements from the Scandinavian cooking and also Polish dishes. The Szara's specialities are the famous fish soup a la Bouillabaise, the Plankstek-beef tenderloin served on a wooden plate, and many other to choose from. The interiors are spacious and designed with excellent taste. There is a patio in the back surrounded by beautiful plants, where You can relax with delicious food and wine. There is no place like the Szara.
Meal for two without wine - approx. 40 euro
Address: 39 Szeroka street.
Website www.szarakazimierz.pl
Email kazimierz@szara.pl
Phone: (+48) 124291219.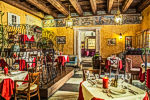 Tradycyja restaurant
Polish cuisine.
Meal for two without wine: about 35 euro
Address: Rynek Glowny 15 /Market Square/
Phone +48 12 424 96 16, email rezerwacja@tradycyja.pl
Polish and Italian origin of our tenement and its historic background has become an inspiration to combine two trends of culinary art. You will be charmed by refurbished chambers, that bring relaxing atmosphere of Italian little alleys and interiors filled with deliciously tempting aroma of food. Our chefs present a sumptuous menu rich in dumplings, mushrooms, succulent meats and regional products from Polish farms complimented by Italian pastas, soups and desserts. You can also try an exquisite cheese selection and wines or take part in a dinner with a Polish folk show.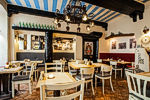 Trzy Papryczki
Address: l. Poselska 17.
Pizzeria Trzy Papryczki is situated at one of cozy little streets in the center of the Old Town. It'll suffice to turn left (going from the central square) from Grodzka street to find the magic pizzeria. Its snug interior perfectly evokes the climate of an Italian restaurant. The pizzeria offers Italian dishes, wines, desserts, and original pizzas from a wood-fired oven. The professional and friendly staff not only will ensure a considerate service but also they will advise competently and recommend the best dishes as well as wines that match the food excellently. In summer and springtime we invite to a cozy garden full of flowers and vine.
Phone:(+48) 122925532.
Website www.trzypapryczki.krakow.pl Email corleone@corleone.krakow.pl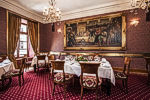 Wierzynek restaurant
Polish cuisine.
Meal for two without wine: about 55 euro
Address: Rynek Glowny 16 /Market Square/
Phone: +48 12 424 96 24, email rezerwacja@wierzynek.com.pl
The tradition of the Wierzynek brand dates back to 1364, when a wealthy merchant Nicolas Wierzynek hosted a splendid feast for the monarchs of Europe on behalf of the Polish King Casimir the Great. The feast took place in a historical tenement at the Main Market Square in Cracow, where today the legendary restaurant is located.
Wierzynek is the place for traditional Polish cuisine and courtly customs gourmets. This Krakow worldwide brand is associated with luxury and sumptuousness, and the restaurant is distinguished as one of the thousand places in the world that you must visit before you die.
After 650 years of history our guests are still the most important for us. Wierzynek Restaurant is not just a legend – it is a story playing every day anew.
---
Polish menu
Try traditional Polish cuisine in one of Krakow's choice restaurants. Ask for regional specialties of Krakow and the Malopolska province.
Multicultural menu
French and Chinese, Italian and Breton, Mexican and Kurdish, African, Vietnamese, Indian, etc. Myriad Krakow restaurants cater to foreign tastes, are run by expats and employ exotic chefs.
Cosmopolitan menu
There is the world standard a traveled gourmet feels at home in. Krakow's best restaurants happily satisfy the worldly tastes.
Economy class
While all Krakow restaurants occur inexpensive to Western visitors, some places are even more so.
---
Popular Krakow Dishes /Recipes/
Krupnik Barley Soup, Christmas Borsch, Krakow Duck, Zrazy Beef Rashers,
Krakow Beverages
Everybody's thirst to be satisfied.
---
Basic Krakow info for visitors
---
There are over 35,000 beds to choose from in Krakow.