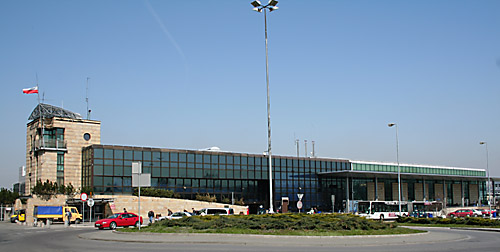 Krakow Airport, international Terminal (T1)
Over seven million visitors take a trip to Krakow every year, though only a third or so stay overnight in the city. Many arrive and/or leave by air, but most take advantage of the fact that Krakow lies at a major European road and rail junction.
Air travel to Krakow.
Krakow's John Paul II International Airport of Balice is situated conveniently on the outskirts of the city, just 15 km (about ten miles) from its center, by the A4 expressway to Silesia province (Slask) en route to Germany. One can easily get there by car (parking lot accommodates 700 vehicles), taxi, or municipal bus lines 292, 208, and nightly 902 plus erratic other bus services.
The Krakow international airport is Poland's second busiest after Warsaw and may receive 1.3 million passengers a year.
Krakow's John Paul II International Airport has regular direct air connections from and to major European hubs such as Berlin, Brussels, Copenhagen, Frankfurt, London, Paris, Rome, and Vienna, as well as Athens, Barcelona, Belfast, Bergen, Bologna, Bristol, Dublin, Dusseldorf, Edinburgh, Helsinki, Leeds, Liverpool, Madrid, Milan, Moscow, Munich, Newcastle, Oslo, Prague, Stavanger, Stockholm, and Stuttgart among others. Transit connections via Warsaw link Krakow with Chicago, New York, Los Angeles and Miami in the USA, and with Bangkok, Cairo, Damascus, Dubai, Istanbul, Kiev, Larnaca, Lvov, Lyon, Minsk, Moscow, Nice, Beijing, Riga, St. Petersburg, Vilnius many other destinations.
There are also domestic flights to and from Poland's capital city Warsaw and such Polish cities as Gdansk, Poznan, Szczecin, and Wroclaw.
Aer Lingus, Aeroflot, Air Berlin, Austrian Airlines, Brussels Airlines, easyJet, Eurolot, Finnair, JetAir, Germanwings, Jet2.com, Lufthansa, Norwegian, and Ryanair fly passengers to Krakow besides the Polish national carrier LOT.
The Krakow airport in Balice has just two terminals: one meant for international flights, the other serving domestic passengers.
See the flights from Krakow
Timetable of flights to Krakow
Journey to Krakow by road.
Most people arrive to Krakow and leave it by car or coach thanks to the city's abundant road connections. And no other major city in Poland can boast better accessibility from abroad. Krakow lies at one of key European crossroads, en route from the West via Germany to the East via Ukraine and from Scandinavia to the Mediterranean via Austria. The city's main road connections include the A4 expressway to Germany, the no. 7 highway northwards to the Baltic Sea and south to the Mediterranean via Slovakia and Austria, the no. 4 highway to Ukraine, and the no. 52 highway to the Czech Republic (see the map).
There are many permanent coach lines between Krakow and Western as well as Central Europe.
Within Poland bus companies compete fiercely on the most popular routes. And in the Krakow region minibus services have become the chief means of commuting apart from car.
Central bus depot is situated close to the Krakow Glowny main rail station that abuts the Old Town historic districts at northeast.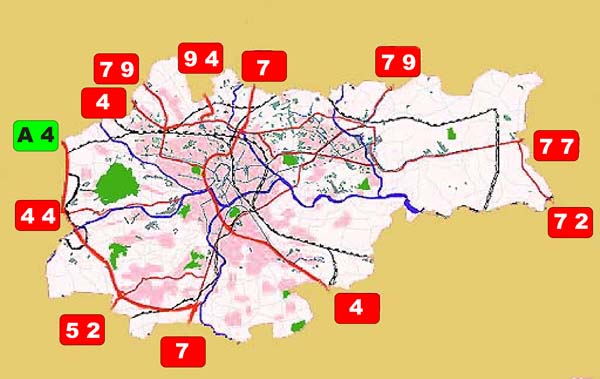 Main access roads to Krakow.
Travel to Krakow by rail.
Krakow is one of Poland's main railroad junctions. Five trunk lines connect the city with the world. Its central Krakow Glowny station is situated most conveniently in the very city center, close to the Old Town historic district. Every day there arrive expresses from Germany's Berlin, Austria's Vienna, the Czech Republic's Prague, and Hungary's Budapest.
Expresses run also to all major cities in Poland. Notably, most convenient is the shuttle express service to and from capital Warsaw where the 300-km trip takes 2h45, no stops in between. At the same time there are abundant local rail connections.
See train departures and arrivals at Krakow's central station
Over 26,000 hospitable beds await visitors in the city.
---
Krakow's Transport
Getting around the city.
Driving Car in Krakow
Parking zones and parking lots in the city center.
In the proximity of Krakow
Krakow is Poland's tourist mecca, and also a gateway to many other must-see sites in the region.
---
---
Map of the Main Roads in Krakow
Map of the Old Town Historic District
Schedule of inbound flights to Krakow's Balice International Airport
Outbound flights from Krakow airport
Train departures and arrivals at Krakow's central railroad station