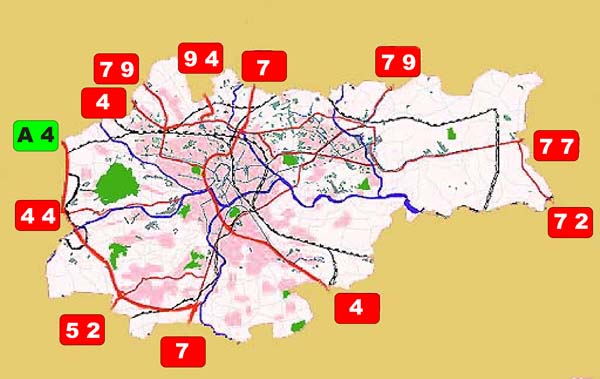 Map of Main Roads Running Through Krakow
A4 - expressway to Germany via the Silesia province
no. 7 - north to the Baltic Sea, south to the Mediterranean via Slovakia and Austria
no. 4 - southeast to Ukraine, southwest to the Silesia province
no. 52 - to the Czech Republic
no. 44 - to the Auschwitz site in the town of Oswiecim
no. 94 - to the Czestochowa sanctuary
no. 79 - northwest to the Silesia province, northeast to Kielce
no. 77 - to Lublin
no. 72 - to Niepolomice
---
Travel to Krakow
Over four million visitors show up in Krakow every year. Many arrive by air, but most take advantage of the fact that Krakow lies at a major European road and rail junction.
Krakow's Transport
How to move about the city.
Driving Car in Krakow
Parking zones and parking lots in the city center.
In the proximity of Krakow
Krakow is Poland's tourist mecca, and also a gateway to many other must-see sites in the region.
---
Over 26,000 hospitable beds await visitors in the city.
---
Train departures and arrivals at Krakow's central railroad station