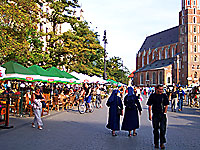 Numerous sidewalk cafes line Rynek Glowny (Grand Square)
as well as other streets and squares of Krakow's central Old Town historical district.
Krakow's coffee houses
Cafes – or coffee shops if you like, kawiarnia in Polish – are to the residents of Krakow what pubs are to Londoners and diners to New Yorkers. In Krakow a meeting over a cup of coffee is the most popular social occasion. It usually entails at least an hour-long chat, argument, or negotiations, be it between fresh acquaintances, old friends, lovers, enemies or business partners.
Coffee shops – Krakow's tradition and reality
First coffee houses opened in Krakow in the mid-18th century.
Besides coffee today's Krakow cafes usually serve their customers all sorts of beverages, from tea to soft drinks to liquors and wine. Desserts such as cakes and ice creams always feature prominently in the menu of every coffee shop in Krakow. Usually they also may feed you on a light meal – be it toasts, crepes or scrambled eggs. And some cafes provide choice of dishes that may be the envy of a demanding restaurant chef.
Sipping coffee in Krakow
Most Poles seem hooked on strong coffee and they cannot carry on without a cup a day, or two or more. Many still brew it the Polish way by putting a spoonful or two of ground coffee into a glass and filling the vessel up with boiling water. Some do so even in Krakow though it is held rather barbarian in the city enamored of espresso. In its penchant for good coffee Krakow resembles Vienna, close both geographically and historically, and it may well rival the Austrian capital in the saturation with cafés, some century-old and museum-like, some brand-new and trendy.
Espresso – with a drop of milk or without – remains the favorite potion of Krakow coffee drinkers, yet cappuccino has also numerous devotees. Latte and the rest aren't very popular with the city residents but few coffee shops may shun them and many cafes in Krakow take pride in elaborate coffee concoctions on their menus.
Coffee-shop chains, the multinationals like Starbucks and Costa as well as the Polish counterparts, try to plant their outlets in the most frequented places of Krakow. At the same time, small independent cafes for the aficionados of the brew, some of them roasting coffee beans on their own, have become recently all the rage in the city.

---
Krakow Beverages
Everybody's thirst to be satisfied.
Krakow Restaurants
Krakow is Poland's mecca of gourmets thanks to its many excellent restaurants.
How to find good restaurants in Krakow
Krakow Clubs
There is no shortage of places to drink, eat, and stay merry late into the night in Krakow.
---
Eating the Krakow Way
It is hearty indeed.
---