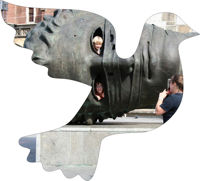 Staying in a hostel in Krakow, Poland.
Quite understandably, many visitors to the city opt for a hostel or bed and breakfast or other low-cost lodging rather than a full-blown Krakow hotel. The city presents a whole range of temporary accommodation arrangements, from boutique hotels to boarding houses to dorms to a room in a family apartment. And converting old downtown apartment buildings into newly refurbished downtown guest houses has come into vogue among local businessmen in the recent years.
Krakow has well over 200 hostels, guest houses, bed and breakfasts, etc. providing a total of 8,000-plus low-cost tourist accommodations.
Service and rates in the hostels in Krakow.
Quality generally matches with rates but obviously there are always exceptions to prove any rule. Some bed-and-breakfasts in Krakow easily beat many low-end hotels while a guesthouse or two prove hardly habitable at all.
Over summer student dormitories often double as youth hostels in Krakow. Despite large number of monasteries and convents in the city just two of them – at the Tyniec Abbey and the Sanctuary of Divine Mercy – run regular guesthouses for outsiders on their premises.
Rates at hostels in Krakow start at an equivalent of under ten euro per night for a bed in a room for six or more.
Selected hostels in Krakow and other guest houses.
Any following information has been provided by respective establishments on their sole responsibility.
Hotele Studenckie w Krakowie
Address: ul. Piastowska 47. Website: www.hotele.studenckie.pl Email: rezerwacja@hotele.studenckie.pl We kindly invite you to take advantage of our one in its kind accommodation offer – Student Hotels. All four hotels provide rooms available for everyone looking for a budget accommodation. Guest rooms are available throughout the whole year. Individual buildings, though in different places, are situated near the center of the city. Thanks to a diversity of standard and room size, we can fulfill requirements of every client. We provide comfortable single and double rooms with a private bathroom and a kitchen, equipped with a radio, TV-set, telephone and the internet as well as modest multi-bedded rooms with bathrooms accessible from the corridor.
Youth Hostel Krakow - Grochowa
Address: 21 Grochowa Street. Phone (+48) 12 653 24 32, fax (+48) 12 650 67 30, mobile: +48 697 661 866, email: krakow@ssm.com.pl Our Youth Hostel is listed in a directory of youth hostels in a global network established by Hostelling International. We offer a comprehensive set of lodging accommodations and facilities to all travelers.
Available to our guests are:
- 200 vacancies in 2, 3, 4 and 5 bedded rooms
- 2 computer stands with an Internet connection (free WiFi in the building)
- self-catering and fully-equipped kitchen
- showers and toilets, drying and ironing rooms
- common rooms with TV
You may get to the hostel by tram 78 from a stop near Krakow Glowny central station.
Also Youth Hostel Cracow - Sokolska at 17 Sokolska street.
Phone +48 (12) 3455785, mobile: +48 601858844, email: sokolska@ssm.com.pl
Hostel Krakow - Sokolska is located about 1.5 kilometers from the Wawel Castle and maximum 10 minutes walk from Kazimierz (Jewish District).
We offer:
- 43 vacancies in 2,3,4,5 and 6 bedded rooms
- showers and toilets
- self-catering and fully-equipped kitchen with fridge and microwave
- Wi-Fi
- iron and ironing board
You may get to the hostel by trams 10, 19, 79 from Krakow Glowny central station.
Youth Hostel PTSM Oleandry
Address: 4 Oleandry street. Phone: (+48) 126338822. Fax: (+48) 126338920. Email: schronisko@smkrakow.pl Website: www.smkrakow.pl Youth Hostel PTSM Oleandry is situated a ten minutes walk from Rynek Glowny central square, close to the Krakow National Museum. Guests may take advantage of:
- 233 beds
- self-catering and fully-equipped kitchen
- showers and toilets on every floor
- a self-catering kitchen
- a chill-out room with TV
- luggage storage facilities
- cupboards for individual guests
- peace of mind; the hostel is protected by the SNS Security Agency
- free parking
- free access to our WiFi Internet Hotspot for our guests
- friendly and professional service
---

---
Click to see Krakow hotels endorsed by this site
Apartments for Hire in Krakow
Want a Krakow flat for night or two?
Budget Krakow
Make economies when visiting Poland's top destination.
---
---
Travel to Krakow
Over four million visitors show up in Krakow every year. Many arrive by air, but most take advantage of the fact that Krakow lies at a major European road and rail junction.
Krakow's Transport
How to move about the city.
Krakow's Communication
Keep in touch while in Krakow