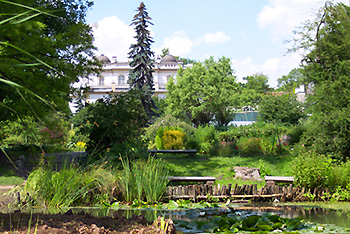 Botanical garden of the Krakow university adjoins the 18th-century palace
that served as its first astronomic observatory.
Krakow's Botanical Garden, the green oasis in the downtown.
Its location at 27 Kopernika street, a ten minutes' easy walk from the very city center, is a best-kept secret of Krakow's traffic-weary residents. Polish oldest Botanical Garden, established in 1779 as one of Europe's first scientific institutions of this kind, is a colorful island of superfluous nature amid the busy city.
Spring to autumn the public can see here some 5,000 plant species, both exotic and native, in the open air as well as greenhouses (the first great palm house dates back to 1882). Yet only the 300-year-old Jagiellonian Oak proves a sole relic of vast primeval forests covering once the whole region. The adjacent Garden of Healing Plants shows various herbs.
The Botanical Garden adjoins a Renaissance palace rebuilt in 1792 to serve as the Krakow university's Astronomic Observatory. It acquired its present form after refurbishment in 1859.
Krakow Blonia Commons
A vast expanse of grassland in downtown Krakow, called Blonia, is protected by law as the national heritage.
---
---
---
Strolls
The best way to enjoy Krakow is on foot.
Tours of Krakow
In Krakow and beyond.