Choice Krakow Restaurants with Foreign Nations' Cuisine
French restaurants and Chinese restaurants, Italian restaurants and American restaurants, Mexican restaurants and Kurdish restaurants, as well as African, Vietnamese, Indian, etc.
Myriad Krakow restaurants cater to foreign tastes, are run by expats and employ exotic chefs.
Any following information has been provided by respective restaurants in Krakow on their sole responsibility.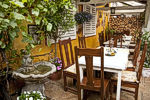 Corleone
Italian cuisine
Address: ul. Poselska 19. Phone: (+48) 124295126. Website www.corleone.krakow.pl Email corleone@corleone.krakow.pl Located on Poselska Street, a quiet strada close to the Main Square, Corleone offers great Italian fare inspired from the Sicilian town whence it derives its name name. In this elegant yet cozily appointed locale, a wealth of flavorful food is for the picking under the watchful gaze of Italy's movie stars whose photographs adorn the walls. Appetizers such as the carpaccio, or the foie gras are great precursors to homemade pasta prepared in myriad ways. Follow up with the exquisite beef sirloin or roast duck with figs, or the outstanding selection of seafood touched by a spicy Sicilian accent - the focus on quality reflected by the fact the place receives a shipment of fresh fish and seafood twice a week. The wine selection mostly from Sicily and Tuscany blends perfectly with the cuisine, and finally award-winning desserts such as the ice cream spaghetti are your light at the end off this remarkable culinary tunnel!
Del Papa restaurant
Italian cuisine.
Meal for two without wine - about 30 euro
Address: 6 Sw. Tomasza street. Website www.delpapa.pl
Phone: (+48) 124218343.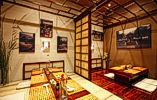 Edo Fusion & Edo Sushi Bar
Japanese cuisine.
What distinguishes Edo Sushi Bar (now called "the old Edo") is its constant adherence to the traditional methods of Japanese cooking, which has won this oldest sushi-bar of Krakow the appreciation of culinary critics and numerous regular customers. In the menu of the new Edo Fusion there are interesting dishes of the Japanese provenance enriched with flavors and aromas evoking Thai, Mexican, and Mediterranean reminiscences.
Meal for two without wine - about 25 euro
Address: 3 Bozego Ciala street and 8 Miodowa street.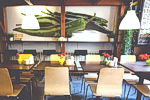 Green Day - Vegetarian Bar & Coffee
Invites you for healthy and tasty vegetarian and vegan dishes from all over the world.
Meal for two without wine - approx. $8
Address: 14 Mikolajska street, Kraków
Phone:(+48) 124311027
Email www.greenday-krakow.pl Website: www.greenday-krakow.pl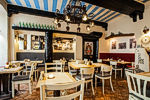 Trzy Papryczki
Address: ul. Poselska 17.
Pizzeria Trzy Papryczki is situated at one of cozy little streets in the center of the Old Town. It'll suffice to turn left (going from the central square) from Grodzka street to find the magic pizzeria. Its snug interior perfectly evokes the climate of an Italian restaurant. The pizzeria offers Italian dishes, wines, desserts, and original pizzas from a wood-fired oven. The professional and friendly staff not only will ensure a considerate service but also they will advise competently and recommend the best dishes as well as wines that match the food excellently. In summer and springtime we invite to a cozy garden full of flowers and vine.
Phone:(+48) 122925532.
Website www.trzypapryczki.krakow.pl Email corleone@corleone.krakow.pl
---
Krakow Restaurants
Krakow is Poland's mecca of gourmets thanks to its many excellent restaurants.
Polish menu
Try traditional Polish cuisine in one of Krakow's choice restaurants. Ask for regional specialties of Krakow and the Malopolska province.
Cosmopolitan menu
There is the world standard a traveled gourmet feels at home in. Krakow's best restaurants happily satisfy the worldly tastes.
Economy class
While all Krakow restaurants occur inexpensive to Western visitors, some places are even more so.
---
---
There are over 35,000 Krakow's beds to choose from.