Privacy matters.
Krakow Info as an independent information service provided by Krakow's journalists maintains professional standards at as high a level as possible. At the same time, we apply a rigid interpretation of Poland's strict privacy law.
We'll be glad to answer all questions regarding our privacy policy and practice via "Questions Answered" page at http://www.krakow-info.com/quests.htm
Your personal information.
The only personal information we collect are voluntarily provided names and email addresses of the Internet surfers who seek a reply from us, notably an answer to a query put through the above mentioned web page.
We don't send any advertisements or commercial messages or promotional materials. We don't compile any mailing lists. And we don't allow voluntarily access to such data to any third party, including other companies and individuals.
Your messages
We may retain messages sent to us via email and other means. For one thing, we store communications to process your inquiries and answer your requests. For another, we may use them to improve our service.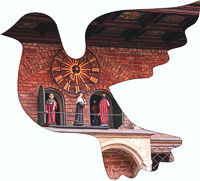 Server logs
Our server records automatically information sent from a browser when anybody visits a web page, for instance IP address, type of the browser, browser language, and the date and time of the visit. We use the data solely for statistical analysis.
Cookies
We don't employ cookies ourselves but our partners and advertisers as well as services providers may do it.
External Links
Our privacy policy covers the Krakow Info website and services it provides. Links on our various web pages, in other documents available online, and in our email messages may lead to other sites that adhere to their own privacy policies.
Possible revisions of our privacy policy
We don't ponder any significant revisions now but the privacy policy of Krakow Info may change with time. All changes will be posted on this page.