landmarks

museums

restaurants

hotels

entertainment
Krakow, the conference city
The cityís rich cultural and social milieu, beauty of its central historical district, accessibility, good hotels, vibrant club scene, and profusion of restaurants and cafes makes Krakow superb location for congresses and conferences. No wonder every year plenty of various powwows, from cozy business meetings to academic seminars to tumultuous conventions, take place here. Their participants feel attracted to Krakow with its well-earned reputation of Polandís premier tourist destination and one of Europeís most interesting old cities. At the same time organizers also enjoy availability of specialist services such as interpreters, catering, technical support, etc.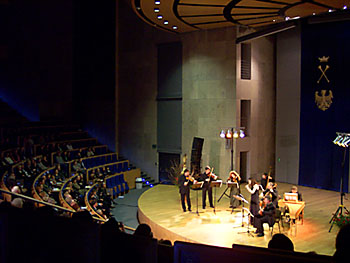 Centrally situated Auditorium Maximum of the Krakow university at 35 Krupnicza street may seat 1,200 and often doubles as a conference center.
Conference facilities in Krakow
Practically all upmarket and mid-range hotels can boast their own conference facilities. Usually they are air-conditioned and well equipped. Some may seat even several hundred people even though most are meant just for tens.
Krakow has a number of halls suitable for a larger assembly and often supplemented by a conference center providing services. Some are situated in the downtown although spacious conference facilities in the central Old Town historical district are few. On the other hand, theaters and the like double as conference spaces when required. All in all, Krakow offers a choice of conveniently situated auditoriums with capacity adequate for gatherings of 200 to 1,000 or so.
Since the cityís purpose-built convention center still remains on the drawing-board, handling attendance of a couple of thousand and bigger is more complex. Yet even such large-scale events happen in Krakow, held in sports halls adapted for the task.
---
---