Personal Experiences and Insights into Krakow, Poland.
Click here to write your contribution to our Krakow-watching common blog.
Authors of the entries to the Krakow In-Forum take full responsibility for their content. The following does not necessarily represent opinions of the Krakow Info editors.
Eating Habits
/2007-12-23/ We're in Krakow for Christmas but have no idea how to get an invitation for the traditional Christmas Eve's meal. It's a pity we have no friends here. I've heard it's a Polish tradition to welcome even perfect strangers on Christmas but I wouldn't dare to approach somebody I didn't know well. So we'd rather dine out at some Krakow restaurant where they serve the traditional Polish food.
Sue
---
Language Matters
/2007-12-14/ I'd prefer reading in my native language, because my knowledge of your language is no so well. But it was interesting!
Orerbatte
---
Market Christmas
/2007-12-12/ We enjoyed Christmas market in Krakow this year. Some stands with cheap goods seem out of place but your lovely tree decorations are a bargain. The same local handicrafts. We snapped up a few of the latter as well.
Marianne
---
Bank Not
/2007-11-26/ I've bought a flat in Krakow. The local real estate agent carried out transaction smoothly but international money transfer through a Polish bank took nearly a week. It required a lot of paperwork, repeated visits, and long queuing.
Thomas
---
In the Cold
/2007-11-17/ Weather in Krakow. It's so cold! I didn't expect frosty days, snow, and icy pavements in the middle of November.
Mary
---
A Package Deal
/2007-11-14/ Visited exhibition in the Wawel Cathedral Museum to see St. Maurice's spear, or rather its thousand-year-old replica that Emperor Otto III had given to Poland's Boleslav I the Brave in year 1000. I also liked other exhibits, mostly beautiful medieval manuscripts written on parchment. What I didn't like was that I had to buy a joint ticket for the cathedral, its belfry, royal crypts, and the museum. The ticket costs under three euro but anyway – I had seen the cathedral and the crypts the other day.
Conrad
---
The Festive Season Coming
/2007-11-06/ And now everyone is looking forward to Christmas, hoping it'll be white. Oh, well, we have to hurry to book the New Year's party before it's too late !
Julian
---
Politicking No Longer
/2007-10-25/ Politics is over. Now everybody here thinks about the upcoming All Saints Day and the following long weekend.
Stanislao
---
Divisive Politics
/2007-10-24/ I stayed last week at the home of my friends in Krakow and was surprised how politicized people were in the city. Everybody seemed agog with the Sunday parliamentary election. My friends were arguing for hours – the family of four was split in half as Mom and Pop supported the governing party and their teenage offspring preferred the opposition. I hope the political fever is now gone whoever won at the ballot.
Bill
---
Royal Public Toilets
/2007-10-16/ Have visited the Krakow Royal Castle. It's a must-see but better don't use the plastic cubicles that serve for stopgap toilets there. Clean and ample public lavatories are situated underground right at the foot of the hill close to the riverbank.
Marion
---
Soft-pedaled
/2007-10-10/ I rented a bicycle to tour Krakow faster, go further, and see more of the city. Besides, I enjoy biking. Unfortunately, Krakow is too crowded. There are too many people in the streets of the Old Town and too many cars elsewhere to pedal comfortably. Next I explored the green parts of the city west of the Old Town and there biking was perfect, notably on the lovely, deserted paths in the woods.
David
---
Go Underground
/2007-10-9/ Wieliczka Salt mine isn't Krakow's only subterranean treasure. Actually, the city hides its most exciting riches underground. Practically all nightlife goes on in cellar clubs. Also trendy cafes and excellent restaurants often occupy vast gothic cellars. When in Krakow I visited a glamorous exhibition in a cellar art gallery, enjoyed a concert of classical music in a cellar auditorium, and saw theater performance in a cellar playhouse. Claustrophobic types will miss lots in Krakow.
Barbara
---
Keeping Warm
/2007-09-16/ My friend is going to spent a week in Kracow 1/2 week in October - will she have to take warm clothing or will the weather still be warm?
Tom
---
Museum of John Paul II
/2007-09-06/ If you are a John Paul II fan, you'll love Krakow's Archdiocese Museum at Kanonicza street. As a priest the late Pope lived in its building, situated at the foot of the Royal Castle, and now his room has been recreated. Other rooms contain mostly varied papal memorabilia. Unfortunately, the museum disappoints visitors attracted by its reputation as a repository of the medieval church art. Its exhibition of artworks is rather modest and generally unimpressive. And the art here obviously plays second fiddle to the towering figure of the Polish Pope.
Andrea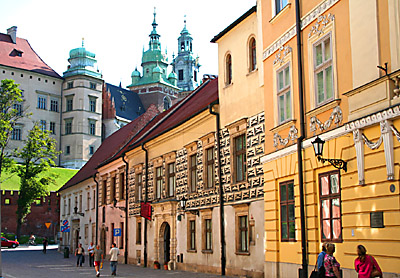 Kanonicza street in Krakow. In the foreground - two adjacent houses where John Paul II lived 1951-1963 have been turned into the Archdiocese Museum with a department devoted to the late Pope.
---
Go to Wadowice
/2007-08-25/ My family, four of us, visited Wadowice where our dear late Holy Father John Paul II was born. The little town and the Pope's humble childhood make a big impression. We saw people with bottles taking water that flows from the statue of John Paul II next to the basilica. Our guide said they believe the water cures some illnesses. Obviously, we ate John Paul's famous cream cake.
Giovanni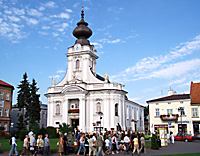 ---
Visiting Krakow.
/2007-08-15/ Very lovely and nice place but hard to find English speaking ppl to talk to them Specially locals. I don't know why they don't wanna speak in English... Mine is not so good but at least I can talk to them and ask something.. Finally I met a nice, cute and young girl named DORTHY. She work in souvenir shop, small one near BARBA KHAN (Barbakan – editors). She was nice in English and loved to speak to her and she is one whom I adore being so nice to me... Kisses for her... Krakow is nice place to visit but once OK not more. It have nothing new or special which other cities of Poland have. Same old buildings, some churches and some backpackers. What is new in it why u ppl go to visit Krakow just cos it was capital of Poland in old days or what? U just wanna see pipe sound coming out of church every hours or see lot of tourist... What is new there? Nothing. Krakow - I will not come back.
Aftab Khan, Pakistan
---
No money can buy this.
/2007-08-12/ I am from the Gold Coast in Australia and I visited Krakow with my beautiful wife in July 2007.We stayed at Hotel Eden in the Jewish quarter and I cannot find the words to describe the wonderful time we had in this city. On one afternoon following our visit to Auschwitz (no time to comment on that here except to say what an honour it was to remember) we left our hotel and as we walked the local street we heard/stumbled on a live blues music venue. In this venue were a Polish couple that could speak Australian and we soon became friends. They took us to dinner the next night and we now have e-mail contact with them and we are hoping they will visit us later this year. No amount of money can buy this experience. Thanks Krakow
Peter Shelton - Australia
---
Terror in Kakow, Only 6 zl.
/2007-08-12/ The idea came to me late. They sometimes due and that is why they are called spur of the moment. I think it is from my French heritage, to get a Bee in the bonnet, and then go flying off to chase it. On Saturday morning, I had plans to go over the flat, clean and dust, do another load of laundry, listen to music, and spend the afternoon enjoying the sun on my balcony, and maybe heading down to the Multi Kino for a movie.
But the Bee slipped inside my brain and I decided to go haring off to find the hill you can see from the Wawel Castle. I loaded up my camera and back pack, and headed out the door. I locked up and pushed the elevator button, and to my surprise it opened with the girl upstairs, and she spoke English. I inquired whether she lived in the unit over mine and she doesn't. A conflict averted.
During the ride down, I regaled her with my tale of the woman directly above me with the clacky shoes, and she laughed with understanding and empathy. I told her I was going to try to find the hill I could see from the Wawel, and asked if there were any trams that could get me there. She was quick to tell me the options, Polish names of places, and I was stymied. Then she said she was going that way and she would give me a ride.
In the car, we passed my bus stop, and I asked her if she was heading for work. No, she was going to pick up her sisters children for a day at the Water Park or Multi Kino. Her sister lived close to my destination so it was not out of her way. Most of the streets we traveled, I recognized so I had my bearings almost throughout the trip. About 15 minutes later she wound up a curvy road climbing a hill. At the top was the hill I had seen from the Wawel. I thanked her for the lift, asked which way off the hill to catch a bus and she told me to just follow the road we came. She gave me a card with her mobile number just in case I set off in the wrong direction and was totally lost later in the evening. Nice neighbor and someone in the district to speak English with.
Around this hill, it is called the Mound, is a fortification, not ruins, but a fortification in the never ending state of maintenance and repair. There is another name for this place, but for me, for now it is hopeless. It is a tourist attraction so the management has kindly taken pity on me with signs that direct you to "The Mound".
The entrance to the Mound is set in a portion of the fortification; you pay a fee of 6 zl. climb a circular stair way onto the roof of the fortification and you are at the base of the Mound. The path was made of new cobble stone, about 4-5 feet wide, and spiraled up to the top of the Mound in both directions. I was not overly concerned about the hike to the top because the paths crossed frequently and afforded a breather at every intersection.
At first the angle of ascent was mild, with adults and children walking and skipping side by side. Even here the views of Krakow below were amazing. At the first intersection, it all changed. No, the path was the same, the day no different, but due to my fear of edges, it changed.
First there was not rail on the outside. Then, if you looked up, the grassy mound on the inside was so steep you need only to reach with hour hand to get a tuft of grass if you lost your balance. The charming cobble stones became ankle catchers a hazard with each step, and my steps slowed to a snails pace. The 4-5 foot path became a thread that turned ever higher into the sky, and memories of how I stumble on perfectly smooth surfaces haunted me.
On my left, the Mound, my hand touching every blade of grass with every step I took. To my right, the abyss, the fort below, and climbing higher it was cold and windy. I began to sweat from anxiety.
I hugged the grass. People were coming down, all ages and abilities, and I could see some with the expression of caution and terror that mirrored my feelings and undoubtedly my face. But, I would not yield the grass. Every man, or woman, or child descending would have to pass on my right. Even if it meant a moment of intimate groping in the process, the grass was mine and I would not give it up.
At the top of the Mound is a flat view point about 30 feet in diameter, with a large commemorative stone in the center, and a 4 foot stone railing, which took away the dreaded edge. Why they cannot build a 5 foot railing is beyond my capacity to reason at such times.
Here the view of Krakow is fabulous. You can see the whole of the city, the Wawel and snippets of the Wisla River in the distance. Further on you can see the towers of manufacturing or power plants, and just to the left the district that is my home. To the left of the Wawel and closer to the mound, is a huge green about a mile long and 1/5 mile wide, where Pope John Paul II held mass, to a multitude that was standing room only.
Just a little further out, the football (soccer) stadium, with the distant roar from the crowd as a goal is scored or nearly so.
The decent was every bit a slow as the climb, grass on the right this time and no quarter given. At the bottom is a small courtyard area set on top of the fortification, where snacks, beer, and coffee are purchased.
Sitting with my coffee, I watched other people ascend to the platform at the top, to take the view and then return. I did notice one woman in the distance, using my grass hugging technique; she hesitate about halfway through the lower level, then retreated, but tried again one more time, only to turn back at the same spot. I wanted to tell her I understood her terror.
From my vantage spot at the café, there is an entrance to another attraction. Watching people go in, I decided to tag along and found it was a museum telling about the Mound. In one section there were flags, and to my amazement, the Stars and Stripes. Next to it on the wall was a copy of the Declaration of Independence.
Among the flags and exhibits of other countries, I discovered the mystery of the Mound. It was built and dedicated in memory of the independence of Poland. In all the 6 zl. of terror was worth the price.
With my quest complete I left the Mound, the Fort and the hill, to begin my journey back to the busses and trams, and eventually home. I followed the road for some distance before coming across a wide pedestrian path. At one point I found a fellow traveler who could speak a little English and he gave me directions to a bus stop. Reading the schedule, I opted to continue the trek down the path to the bottom in hopes that more bus stops would make an appearance. After all it was all down hill.
This pathway was in itself nice. Poland is turning green now, and wildflowers are growing, and the green vibrant. The walk was pleasant and something to be remembered in the summer when it is hot. The pathway is straight, bordered on either side by tall trees that form a canopy. It should be a pleasant place in the Dog days of Summer.
The path passed a cemetery in a nice setting, but a funeral in progress, then, ended in a charming neighborhood of about twenty houses on tree lined streets. A final turn brought me to a large intersection and the terminus of tram line #2. Previously this had been a line that was useless to me, now it is a summer destination.
I left the tram at Rynek Glowny and Old Town, intending to pass through the square and get something to eat before I took a bus back home. I noticed a march going on. There must have been two to three thousand people herded by Police in riot gear. Whatever was going on, I wanted to avoid it.
On entering Rynek, I found that the march had wound itself around the outside of Old Town, up Grodzka, and would be coming into Rynek itself. Curiosity got the better of me and I asked one of the Policemen in riot gear, what was going on. (He spoke English.) "It is a Gay and Lesbian parade."
Whew, I thought. At least it wasn't a factional political party or protest, complete with Molotov cocktails and sporadic machine gun fire. Though the march did have it's detractors in playing the part of the homophobic, and thus the show of police presence.
Leaving the milling crowds, cameras clicking, I headed up Florianska to the Galeria Krakowska and a more peaceful lunch, thinking there wasn't any need for a march or police presence. It may be a political issue, but all in all, finding love is hard enough in this world without need to politicize it. Where you find it, and who you find it with is something past outside influence or objection. And if you find love, count yourself very lucky.
Hello, I am a transplanted American who has found a home (if I can stay) in Krakow. Most of my adventures spring from ignorance and are viewed with my particular sense of humor. If you would like more of my adventures, just drop me a line at paladin26@wp.pl. If you are Polish I hope you will enjoy my views. To date I have been living here not understanding Polish, and I am beginning to do this very well. :)
Trzymaj sie, David
---
Snap up
/2007-08-01/ Hi - Me and 3 friends are driving across Europe in a Rover 620, and when we arrive in Krakow we would like to sell it! Originally we were gonna scrap whatever car we got but this is in too good condition to scrap. Full leather interior, all eclectrics, sunroof, smooth runner - only 70,000 miles (1993 reg). ALL OFFERS CONSIDERED! Maybe you are holidaying there and would like to drive back?? Or even just to have a car while you are there?? We arrive on Monday 6th Aug and leave on Tuesday 7th, Staying at the Secret Garden Hostel – snap up a bargain!
Ray - coldpepsi@hotmail.com
---
Hey Gwen
/2007-07-29/ Actually I'm going to Barcelona next week so I'm gonna have my decent apartment available for renting. I can rent it to You. It's in the center, 5 minutes of lazy walk to Rynek but also very close to Kazimierz. It's on a quiet street. It's worth considering. I can send You photos if You wish. I love Krakow but I love Barcelona as well :)
Kacper
---
Keep Cool 2
/2007-07-23/ Cracow is cool.
June
---
Keep Cool
/2007-07-14/ When a heat wave hits Krakow – go cinema. The city's few swimming pools are overcrowded and generally below par. Tourist sites usually lack air-conditioning. And public places in Krakow that can boast it, such as shopping centers and bars, often turn sweaty anyway whenever temperatures outside exceed thirty degrees Celsius. At the same time theaters in the city's multiplexes stay refreshingly cool. Visiting Wieliczka salt mine is good idea too – there is constant 15 degrees Celsius down there in the mine's galleries and chambers.
Konrad
---
Motorway Trap
/2007-07-12/ I drove to the Krakow airport from Zakopane in Tatry mountains and took the ring road on the city limits. The supposed motorway – signposts indicate so too – is a motorist's trap. Due to road repairs it narrows to one lane either direction its entire length. The speed limit of 60 km/h doesn't matter much because heavy traffic slows you anyway (on average I drove at 40 km/h, it was noon). Not to be late, one should take into account a half-hour extra driving time.
Horst
---
Rental Apartments
/2007-07-03/ Looking for a rental vacation apartment in Krakow. Or any decent and convenient accommodation anywhere in the city center in early August. Any suggestions?
Gwen
---