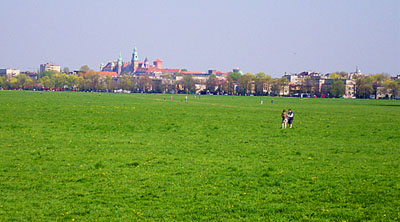 Meadow in Downtown Krakow.
A vast expanse of grassland in downtown Krakow, called Blonia, is protected by law as the national heritage. And occasional grazing cattle are perfectly in the right here. The locals have been granted the use of the 120-acre common for pasture since the city obtained it from the convent of St. Norbert in 1366. Yet nowadays the huge Krakow common serves the city dwellers mostly as a recreational ground. And the grassland of that size proves ideal for mass gatherings - from parades to open-air concerts to papal Masses heard by millions.
The Blonia commons border on Park Jordana, most popular of Krakow's public parks, and adjoin varied sports grounds, from tennis courts to swimming pools to soccer arenas of the city's two top football clubs, Wisla and Cracovia, the eternal bitter rivals.
---
---
---
---
Strolls
The best way to enjoy Krakow is on foot.
Tours
In Krakow and beyond.