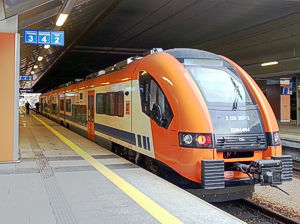 Central Krakow to KRK International Airport by train.
A journey by bus is somewhat cheaper but the train service linking the Krakow airport and the city centre seems a far more convenient means of public transport. The buses to and from Balice, the area on the outskirts of Krakow where the airport is situated, are notoriously overcrowded and slow due to congested streets and numerous stops en route. And the trains provide such modern comforts as free Wi-Fi access for your mobile devices and electric sockets to charge them.
The Krakow airport - IATA code KRK, ICAO code EPKK - is situated just 15 km (about ten miles) west from the city center and the journey by train lasts under twenty minutes barring some unexpected contingency.
The shuttle train service connects the Balice Airport with the Krakow Glowny central station, located close to the Old Town historic district in the very heart of of the city. The rail station forms the central part of Krakow's key public transport hub as it adjoins the main bus depot as well as a cluster of tram and bus stops.
Typically, the airport trains run practically every thirty minutes. The earliest train leaves from the Krakow Glowny central station for the airport at 4:45 am and the latest one at 10:41 pm - usually from platform three (peron 3).
The first and the last departure from the airport station are 5:14 am and 11:19 pm respectively.
A one-way ticket from the airport to central Krakow or back costs 12 zlotys (PLN). Luggage is free of charge but one needs to pay three zlotys for a dog or a bicycle. Ticket machines are in the airport terminal, at every station, and aboard the trains and they accept cash - coins or banknotes - as well as all major cards.
Please note: unlike Krakow municipal trams and buses, the train service is not free for people aged 70 and over.
Krakow Airport to Wieliczka via central Krakow by train.
Actually the trains travel from the Krakow Airport to the center of Wieliczka, the Krakow Glowny central station situated roughly halfway, being the fifth of 13 stops. A single ticket from the airport to Wieliczka (or back) costs 16 PLN.
The train line runs across entire Krakow from northwest to southeast so passengers had better consider also other stops for one of them may prove more convenient than the central station. Starting from the Krakow Airport the names of the en route train stops are as follows:
Krakow Lotnisko / Airport

Krakow Olszanica

Krakow Zakliki

Krakow Mlynowka

Krakow Lobzow

Krakow Glowny

Krakow Zablocie

Krakow Plaszow

Krakow Prokocim

Krakow Biezanow

Krakow Biezanow Drozdzownia

Wieliczka Bogucice

Wieliczka Park

Wieliczka Rynek-Kopalnia (the Salt Mine)
Note: due to the overhaul of railways, some trains of the line Krakow Airport-Krakow Glowny and/or Krakow Glowny-Wieliczka may be temporarily cancelled or replaced with buses between 9.30 am and 2.30 pm on weekdays.