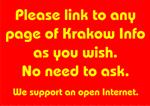 ---
---
---
---
---
Breaking the news from Krakow, Poland
New bridge between Kazimierz and Podgorze districts.
A brand-new bridge has opened in Krakow to allow walkers and cyclists to cross Wisla river between trendy Kazimierz area and Podgorze district.
The 145-meter-long structure, christened Kladka Bernatka, is the city's first bridge over the Polish biggest river meant solely for pedestrian and bicycles. It links two areas that keep on gaining popularity with tourists: Kazimierz with its ancient monuments, historic Jewish Quarter, and fashionable nightspots on the left bank and Podgorze where modern Schindler's Factory Museum has been opened recently.
The footbridge spans Wisla river between streets Podgorska in Kazimierz and Przy Moscie in Podgorze and it cost some ten million euro to build, roughly a third of the amount covered by an EU fund. The rest has been financed by Krakow's municipality which believes that the investment will stimulate growth of local businesses in Podgorze. The locals mostly share such hopes but many find the futuristic bridge an eyesore.
---
Krakow's News Stories of the Past:
Krakow Info Archive News of 2009