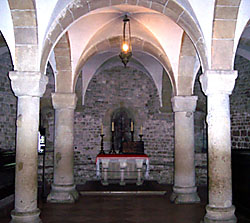 St. Leonard's crypt dates from the 11th century.
Royal tombs of the Wawel Cathedral in Krakow
Whereas Poland's medieval monarchs were buried under the floor of the Wawel Cathedral below their sarcophagi, those of the l6th, the 17th and the 18th centuries were laid to rest in its crypts. That innovation, too, was introduced by King Sigismund I the Old. In 1533 he transferred the body of his first wife to a purpose-built vault underneath the brand-new exquisite chapel named after him later on. He joined her in 1548.
Most crypts of the Wawel Cathedral date back to the l6th and the 17th century and they entomb ten Polish monarchs together with their spouses and occasionally children. Then the nation's greatest war heroes were honored with the burial in the Cathedral's vaults – Prince Jozef Poniatowski in 1817, Tadeusz Kosciuszko in 1818, Marshal Jozef Pilsudski in 1935, and General Wladyslaw Sikorski in 1993.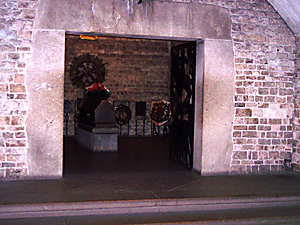 Vestibule of the Marshal Pilsudski crypt at the Krakow Cathedral.
In 2010 President Lech Kaczynski and his wife Maria were buried in the vestibule of the Wawel Cathedral's Marshal Pilsudski crypt, which created considerable controversy at the time.
The remains of two 19th-century Polish outstanding poets – Adam Mickiewicz in 1890 and Juliusz Slowacki in 1927 – were buried in the separate "Bards' Crypt" which contains also a symbolic tomb of Cyprian Kamil Nowid, another great poet, and a plaque commemorating Frederic Chopin.
In 1873 royal crypts were connected and made open to the public. The entrance is on the left of the nave in the first chapel of the north aisle. The tour of the tombs starts in the vast 11th-century Crypt of St. Leonard's, considered the best Romanesque interior in Poland.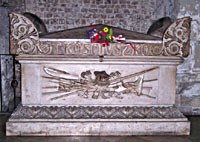 Tadeusz Kosciuszko's sarcophagus dates from 1818.