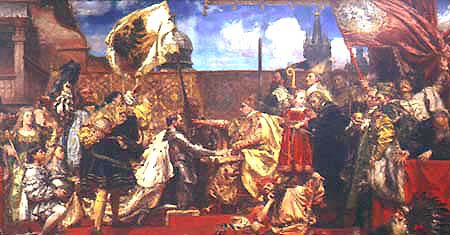 In 1525 Prince of Prussia pays homage to the Polish king on Krakow's Grand Square.
Most Important Dates in the History of Krakow
8th century – Wislanie tribe set up their state with Krakow as its capital
999 – Krakow province incorporated into the House of Piasts' realm
1000 – Krakow got its own bishop
1038 – King Casimir I the Renovator moved Poland's capital to Krakow
1241 – Krakow demolished by Mongols
1257 – Duke Boleslaw the Shy endowed Krakow with self-government and trade privileges
1311 – mutiny of Krakow burghers mercilessly squashed by Prince Vladislav the Short
1320 – coronation of King Vladislav I the Short, first such event in Krakow's Wawel Cathedral
1335 – King Casmir III the Great founded his brand-new city of Kazimierz near Krakow
1364 – King Casmir III the Great founded the Krakow university
1364 – Krakow summit of European monarchs
1386 – Krakow wedding of Poland's queen Jadwiga and Lithuania's grand duke Jagiello paves the way to the union of the two nations
1400 – renewal of the Krakow university thanks to the legacy of the Saint Queen Jadwiga
1447 – the beginning of the 45-year reign of King Casimir IV that make Poland one of the greatest European powers
1489 – Veit Stoss finished his stunning altarpiece for Krakow's basilica of Virgin Mary's
1500 – start of the Renaissance renovation of the Wawel Royal Castle
1558 – regular mail-coach connection established between Krakow and Venice
1525 – the first prince of newly born Prussia paid homage to Poland's King Sigismund I the Old on Krakow's Grand Square (see picture above)
1574 – Henry I Valois, the first of Poland's elective kings, ran away from Krakow after a 4-month reign to become France's Henry III in Paris
1587 – Maximillian Hapsburg's failed 6-week siege of Krakow made him drop his bid for the Polish throne
1609 – King Sigismund III Vasa moved his residence to Warsaw
1655 – Swedish army captured and devastated Krakow
1683 – King John III Sobieski led his Polish army from Krakow to Vienna, won it from besieging Turks, saved Christian Europe, and brought back booty now displayed in Krakow museums
1702-11 – Krakow was being captured and recaptured, on and on, and thus ruined by Swedish, German, Polish and Russian troops in the course of the Northern War
1734 – coronation of King August III, the last one in Krakow's Wawel Cathedral
1768 – Krakow became a center of the first Polish uprising suppressed by Russian troops
1772-78 – Russian occupation of Krakow
1791 – Krakow enlarged by two adjacent towns, Kazimierz and Kleparz, plus settlements around the city
1793 – another Russian occupation of Krakow
1794 – Krakow was the center of national uprising led by Thaddeus Kosciuszko
1794 – Prussian army captured Krakow and stole Poland's regalia that have been lost forever
1796-1809 – Austrians occupied Krakow
1809 – Krakow incorporated into the Duchy of Warsaw under the sway of France's Napoleon I
1813-15 – another Russian occupation of Krakow
1815 – the Congress of Vienna created a tiny, independent Republic of Krakow
1816 – Krakow Scientific Society was launched, turned the Science Academy in 1872
1844 – construction of the Krakow-Myslowice railway
1846 – 9-day Krakow Revolution and subsequent Austrian annexation of the Krakow Republic
1848 – Second Krakow Revolution, Austrian bombardment of the city
1850 – 10-day fierce fire destroyed a quarter of Krakow
1866 – Vienna let Krakow to enjoy municipal self-government
1879 – Krakow National Museum, Poland's best collection of art, was launched
1883 – a pair of Krakow's university professors, Karol Olszewski and Zygmunt Wroblewski, achieved first ever liquefaction of oxygen, nitrogen and carbon dioxide
1884 – Krakow got its first telephone lines
1893 – Krakow's renowned city theater moves to its brand-new, state-of-the-art building
1901 – Krakow got electric tramway (a year ahead of Vienna)
1910 – Krakow's rapid territorial expansion began
1912 – Krakow's first movie house opens
1914 – Polish Legions, a nucleus of future Polish army, were formed in Krakow by Jozef Pilsudski, Poland's future head of state
1918 – Krakow was the first piece of the reborn free Poland when Polish authorities took control of the city by the end of October
1926 – the Krakow radio station went on air
1939 – the nazi Third Reich and the communist Soviet Union divided Poland between them and the former set up so called General Governorship with Krakow as its capital city.
1942 – the German authorities set up Plaszow concentration camp in Krakow.
1943 – the nazis definitively liquidate the Jewish ghetto in Krakow on March 14th.
1945 – the Soviet Red Army captured Krakow in January
1949 – giant steelworks built near Krakow with the adjoining Nowa Huta residential district
1979 – Krakow archbishop Karol Wojtyla became Pope John Paul II and visited his native city
1980 - workers went on strike at the Nowa Huta steelworks, which helped to start the Solidarity trade union
1989 – collapse of communism in Poland
1991 – the first democratic elections to the local government since 1939