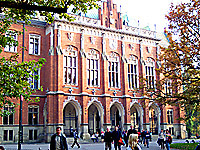 The neo-Gothic Collegium Novum building of 1887, 24 Golebia street at the Planty ring of gardens, remains the Jagiellonian University's headquarters.
Jagiellonian University
The Krakow university is Poland's second largest and most revered. Its over 47,000 students and 7,000 faculty members make Krakow's 650-year-old Jagiellonian University a major European institution of higher education. Though mostly government-funded, the university enjoys broad autonomy as regards its management, finances, internal organization, scientific research, education, student enrollment, etc. Decision-making lies with democratically elected university Senate and rectors voted into office every four years.
More than 600 professors plus some 4,000 readers and other lecturers make up the teaching staff of the Krakow university's 15 faculties. Each faculty is governed by a council and a dean it appoints.

Departments of the Jagiellonian University.
The university consists of the following faculties.
- Faculty of Law and Administration,
- Faculty of Philosophy,
- Faculty of History,
- Faculty of Philology,
- Faculty of Polish Studies,
- Faculty of Physics, Astronomy and Applied Computer Science,
- Faculty of Mathematics and Computer Science,
- Faculty of Chemistry,
- Faculty of Biology and Earth Sciences,
- Faculty of Management and Social Communication,
- Faculty of International and Political Studies,
- Faculty of Biochemistry, Biophysics, and Biotechnology,
- Faculty of Medicine,
- Faculty of Pharmacy,
- Faculty of Health Sciences.
The last three of the above and the Clinical Hospital form so called Collegium Medicum (Medical College) which is granted considerable independence within the university. The faculties are divided into institutes and chairs. And there are units operating outside the faculty framework as well.
History of the Krakow University.
Krakow University–Alma Mater Cracoviensis–dates back to 1364 when Poland's King Casimir III the Great (1333-1370) established a Studium Generale in the city with permission from Pope Urban V. In 1400 the Krakow Academy owed its restoration and modernization to the legacy left by the Polish queen-saint Jadwiga (1384-1399). The Jagiellonian University has got its present name after her royal husband, King Vladislav II Jagiello (1386-1434), who faithfully fulfilled her will, and after his successors from the Jagiellonian dynasty that would support the school later on.
As early as in the mid 15th century the Krakow University became Europe's leading academic center of mathematics, astronomy, astrology, geography and legal studies. Over the past centuries it has educated myriad great men, Nicolaus Copernicus (1491-95) and Pope John Paul II (1938-39, 1942-46) in that number.
Students from abroad at the Jagiellonian University.
Master-degree studies take 5 to 6 years in three stages – basic courses, majors and further specialization. They are available to foreign students ready to satisfy regular curriculum requirements set by each faculty or institute. Studies at the Jagiellonian University demand a good deal of independent work, and master theses are based on students' own research.
Foreign students brought to the university on their "year abroad" scheme or by way of student exchange choose their courses at will. University may arrange tutorials in Polish literature, history, politics, etc in foreign languages if requested.
Also, there is a number of master-degree and postgraduate programs in English and a few in other foreign languages.
---
Address of the rector's office: Jagiellonian University, Collegium Novum, 31-007 Krakow, ul. Golebia 24, Poland, phone (+48) 12 4226689, fax (+48) 124226306
The university's International Students Office serves as the admission office for foreigners where prospective students from abroad may get information and guidance. Its postal address is International Students Office, Jagiellonian University, Collegium Novum, ul. Golebia 24, rooms 031 & 032, 31-007 Krakow, Poland. Phone (+48) 126631546 or (+48) 126631547 or (+48) 126631106. Fax. (+48) 126631545. Email: admissions@adm.uj.edu.pl
---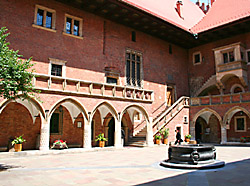 The 15th-century Gothic Collegium Maius, the Krakow university's ancient seat.
Collegium Maius
15th-century impressive Grand College of the Krakow university where Copernicus once studied.
Study in Krakow
It's a good place to complete or continue your studies.
Krakow's Institutions of Higher Education
---
Jagiellonian Library
Poland's oldest library boasts 5 million volumes and its unique collection of medieval manuscripts and ancient books contains tens of thousands priceless items.
---
Collegium Maius
15th-century impressive Grand College of the Krakow university where Copernicus once studied.
Krakow Old Town Historical District
Poland's prime tourist attraction and a must-see in Central Europe boasts numerous world-class monuments, charming vistas, delightful atmosphere, and the best restaurants.
---