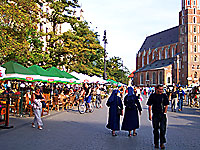 Hotels in central Krakow.
It appears that most hotels in Krakow are touted as being centrally located in the city. In some cases, however, the claim of situation in downtown Krakow may only be justified by relatively easy access to to city center by means of public transport.
Yet in fact, the properly defined central Krakow consists of the Old Town historic district and adjacent neighborhoods.
Out of 18 boroughs of Krakow, only one qualifies in its entirety as the downtown. It's Dzielnica I Stare Miasto which covers some 5.57 square kilometers in the city center and includes such historic districts as the Old Town proper, the town of Kazimierz, Kleparz, Piasek, Stradom, Nowe Miasto, and Nowy Swiat. Also fragments of five other boroughs - Dzielnica II Grzegorzki, Dzielnica V Krowodrza, Dzielnica VII Zwierzyniec, Dzielnica VIII Debniki, and Dzielnica XIII Podgorze - may be considered the downtown areas.
For a visitor to Krakow a centrally located hotel is one situated within walking distance - under twenty minutes, say - from the central square of the Old Town as such definition we adopt here.
Featured hotels in the center of Krakow.
Any following information has been provided by respective Krakow hotels on their sole responsibility.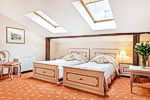 Hotel Amadeus ****
Address: 20 Mikolajska street. Phone: (+4812) 429 60 70. e-mail: amadeus@janpol.com.pl, www.hotel-amadeus.pl The boutique Hotel Amadeus is situated in the very heart of Krakow, just 200 m from the Main Market Square and other historical attractions. You can relax in 20 spacious, well-equipped rooms and 2 elegant intimate apartments with jacuzzi. Additional Facilities: restaurant, bar, conference rooms, air conditioning, free Wi-Fi access, sauna, mini-fitness, moreover Krakow city tours available at the reception.
The helpful and always smiling staff of Amadeus hotel will make your stay comfortable and relaxing, especially if you plan a romantic stay in Krakow.
---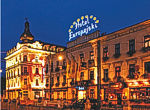 Address: 5 Lubicz street. Phone: (+4812) 4232510. Fax: (+4812) 4232529. E-mail: he@he.pl, www.he.pl Nice and cozy hotel near the city center (a five minutes' walk) and the main railroad station (a four minutes' walk) with prices for the impecunious as well as the rich, standard both modest and exclusive. Capacity 120. Single-room rate 142 zlotys, double rooms 186 zlotys, triple rooms 232 zlotys, suites 518 zlotys. All major cards accepted. For your convenience: restaurant, cafe, pub, fitness room, sauna, parking lot, conference facilities for 10 to 300 people, and garden open all year round.
---
Hotel Floryan


Address: 38 Florianska street (Krakow's Old Town historic district). Phone: (48 12) 4311418. Fax: (48 12) 4312385. E-mail: floryan@floryan.com.pl, www.floryan.com.pl Capacity 49 in 21 rooms. Hotel price list, 01.04-2016 -22.07.2016 and 03.08.2016-31-31.10.2016 rates in PLN zloties: twin room 450, twin room for 1 person 350, superior room for 4 persons 720 PLN, superior room for 3 persons 650, double superior room 590, single superior room 490, an extra bed in a superior room 100. Breakfast and VAT included. All major cards accepted. For your convenience: restaurant, conference facilities, air conditioning, and wireless Internet.
---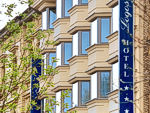 Hotel Logos
Address: ul. Szujskiego 5. Logos Hotel is a 3-star hotel recommended by the Polish Hotel Association and the Polish Commerce Chamber of Polish Hotel Industry. It is situated in the centre of Krakow, 600 meters from the Main Square. It's a small cosy building with 49 comfortably equipped rooms, a restaurant, a drink bar and a SPA area.
Apart from the basic bed & breakfast service, we organise:
- local trips (sightseeing tours of the city, trip to the Salt Mine in Wieliczka, sightseeing of the Oswiecim /Auschwitz/ Museum, the St. Mary's Sanctuary in Czestochowa and Lagiewniki and many other attractive programs),
- banquets and occasional parties, meals for groups in the restaurant at very attractive prices. Our restaurant offers a discount for hotel guests, recommends daily company dinners and organises occasional parties.
- transfers from the airport and the railway station in co-operation with a transport company.
Our prices are flexible and varied, depending on the customer, the form of payment and the length of stay.
---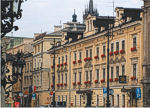 Hotel Pollera
Traditions from 1834. Address: 30 Szpitalna street. Website: www.pollera.pl Phone: (48 12) 4221044. Fax: (48 12) 4221389. E-mail: rezerwacja@pollera.pl
Hotel Pollera is situated in the very heart of Krakow. Most of top sights, including the Basilica of the Virgin Mary, Cloth Hall, the Jewish Quarter and the Wawel Royal Castle, are located within walking distance.
The hotel offers comfortable single, double or triple rooms and luxurious air-conditioned suites. All rooms with free Wi-Fi. All major cards accepted.
---
Hotel Rubinstein
Address: 12 Szeroka street. Phone (+48) 123840000. Web site www.rubinstein.pl Capacity: 65. Double-room rates from 120 euro. All major cards accepted. For your convenience: air conditioning, restaurant, conference facilities, suites, sauna, fitness center, facilities for the disabled, parking.
---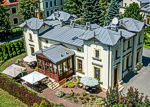 Hotel U Pana Cogito
Address: 6 Baluckiego street (a ten minutes' walk from the Wawel Royal Castle). Phone: (+4812) 2697200. Fax: (+4812) 2697202. Email: recepcja@pcogito.pl Website: www.pcogito.pl Off-season rates: double room 51 EUR, double room for one person 42 EUR, double room with an extra bed 60 EUR, apartment 60 EUR. High-season rates: single room 50 EUR, double room 62 EUR, triple room 72 EUR, apartment 63 EUR (all profits from our work are assigned for rehabilitation of the handicapped). Every room has en suite bathroom and is equipped with a satellite television, a refrigerator and 24-hour Internet access. Our restaurant offers dishes of Polish cuisine and its motto is: tasty but inexpensive. For your convenience: restaurant, room for the disabled, parking lot.
---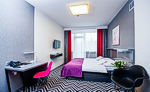 Hotel Wyspianski ***
Address: 15 Westerplatte street. Phone: (+4812) 4229566. e-mail: wyspianski@janpol.com.pl, www.hotel-wyspianski.pl
Ideally located in the city centre, close to the Planty Garden Ring surrounding the Old Town (5 minutes walk to the Main Market Square), it offers 231 comfortable rooms. Each one has a bathroom with shower and is equipped with a TV, a telephone, wireless Internet access (free of charge) and a hairdryer. The Premium rooms also offer a safe, an extra kettle, and a coffee and tea set. Furthermore you will find here an excellent restaurant and a bar, spacious guarded car park, fitness room, gift shop, casino, 5 fully equipped conference rooms.
The friendly and professional staff are happy to offer more personal suggestions about what to do in Krakow to ensure your stay will be extraordinary.
Other hotels in downtown Krakow.
Five-star hotels
Copernicus at ul. Kanonicza 16, phone 124243400
Grand at ul. Slawkowska 5/7, phone 124240800
H15 Luxury Palace at ul. sw. Jana 15, phone 123711515
Holiday Inn Krakow City Center at ul. Wielopole 4, phone 126190000
Radisson Blu at ul. Straszewskiego 17, phone 126188888.
Sheraton Krakow at ul. Powisle 7, phone 126621000.
Stary at ul. Szczepanska 5, phone 123840808.
The Bonerowski Palace at 42 Rynek Glowny square. Phone: (+48) 123741300.
Four-star hotels
andel's at 3 Pawia street, phone 126600100.
Amadeus at ul. Mikolajska 20, phone: 124296070.
Francuski at ul. Pijarska 13, phone 126273777,
Grodek at ul. Na Grodku 4, phone 124319030,
Indigo Krakow - Old Town at ul. sw. Filipa 18, phone 123451874.
Kossak at Pl. Kossaka 1, phone 123795900.
Mercure Krakow Stare Miasto at ul. Pawia 18 B, phone 122251135.
Metropolitan Boutique at ul. Berka Joselewicza 19, phone 124427500.
Novotel Krakow Centrum at ul. Kosciuszki 5, phone 122992900.
Ostoya Palace at ul. Pilsudskiego 24, phone 124309000.
Pod Roza at ul. Florianska 14, phone 124243300.
Puro at ul, Ogrodowa 10, phone 123142100.
Polski Pod Bialym Orlem at ul. Pijarska 17, phone 124221144.
Queen Boutique at ul. Jozefa Dietla 60, phone 124333333.
Unicus at ul. Florianska 35, tel. (+48) 12 433 71 11.
Three-star hotels
Alef at ul. sw. Agnieszki 5, phone 124243131.
Alexander at ul. Garbarska 18, phone 124229660.
Alexander II at ul. ul.Zamenhofa 14, 31-025 Krakow. Phone 123515050.
Amber at ul. Garbarska 10, phone 124210606.
Ascot Hotel at ul. Radziwillowska 3, phone 123840606.
Astoria at ul. Jozefa 24, phone 124325010.
Atrium at ul. Krzywa 7, phone 124300203.
Best Western Krakow Old Town at ul. Sw. Gertrudy 6, phone 124227666.
Colimbus at ul. Starowislna 57, phone 122527550.
Classic at ul. Sw. Tomasza 32, phone 124240303.
David at ul. Ciemna 13, phone 126192470.
Eden at ul. Ciemna 15, phone 124306565.
Elektor at ul. Szpitalna 28, phone 124232317.
Ester at ul. Szeroka 20, phone 12429 11 88.
Fortuna at ul. Czapskich 5, phone 124223143.
Fortuna Bis at ul. Pilsudskiego 25, phone 124301025.
Galaxy at ul. Gesia 22a, phone 123428100.
Jan at ul. Grodzka 11, phone 124301969.
Karmel at ul. Kupa 15, phone 124306700.
Kazimierz at ul. Miodowa 16, phone 124216629.
Kazimierz II at ul. Starowislna 60, phone 124268070.
Maltanski at ul. Straszewskiego 14, phone 124310010.
Matejko at Pl. Matejki 8, phone 124224737.
Old Time at ul. Szlak 33, phone 124234790.
Pod Wawelem at Pl. Na Groblach 22, phone 124262625.
Poleski at ul. Sandomierska 6, phone 122605415.
Pollera at ul. Szpitalna 30, phone 124221044.
Polonia at ul. Basztowa 25, phone 124221233.
Pugetow at 15a Starowislna street, phone 124324950.
Queen Boutique Hotel at ul. Dietla 60, phone 124333333.
Regent at ul. Bozego Ciala 19, phone 124306234.
Rezydent at ul. Grodzka 9, phone 124295410.
Royal at ul. Sw. Gertrudy 26-29, phone 124215500.
Secesja at ul. Paulinska 24, phone 124307464.
Senacki at ul. Grodzka 51, phone 124227686.
Vienna House Easy Chopin Cracow at ul. Przy Rondzie 2, phone 122990000.
Wawel at ul. Poselska 22, phone 124241300.
Warszawski at ul. Pawia 6, phone 124242100.
Wentzl at Rynek Glowny 19, phone 124302664.
Wielopole at ul. Wielopole 3, phone 124221475.
Wit Stwosz at ul. Mikolajska 28, phone 124296026.
Two-star hotels
Abel at ul. Jozefa 30, phone 124118736.
Campanile at ul. Sw. Tomasza 34, phone 124242600.
Ibis Krakow Centrum at ul. Syrokomli 2, phone 122993300.
Ibis Krakow Stare Miasto at ul. Pawia 15, phone 123552900.
Pugetów at ul. Starowislna 15a, phone 124324950.
One-star hotels in Krakow
Ibis Budget Krakow Stare Miasto at ul. Pawia 11, phone 123552950.
Mistia at ul. Szlak 73a, phone 126332926.