European Football Championship Euro 2012 and Krakow.
Krakow readies itself for extra influx of foreigners in summer 2012, courtesy of the European football championship. The Euro 2012 tournament, co-hosted by Poland and Ukraine, takes place between Friday, June 8th and Sunday, July 1st. Its Polish events has been allotted to four cities - Gdansk, Poznan, Warsaw, and Wroclaw, not even a single match awarded to Krakow. Being spared belligerent crowds, the city is nevertheless certain to attract due attention and benefit from its worldwide reputation as Poland's top destination which has no equal in Ukraine either. Besides, three leading national sides of the Euro 2012 championship - England, The Netherlands, and Italy - have made the city their base throughout the tournament.
Football stars shine in Krakow.
The majority of Europe's top footballers will live and practice in Krakow in June 2012, their coaches and staffs plotting here the assault on Euro 2012. The England squad stays at the OId Town's stylish Hotel Stary at 5 Szczepanska street, just a stone's throw from the central Rynek Glowny square (allegedly, wives and girlfriends of English players are to be stationed two blocks away, in Hotel Pod Roza at 14 Florianska street). As regards training facilities the English soccer stars have to make do with modest Hutnik Municipality Stadium at 4 Ptaszyckiego street. Krakow's premier football arena, Wisla Stadium at 22 Reymonta street, has been secured by the Dutch who will stay at spacious cosmopolitan Sheraton at 7 Powisle street situated close to the central historical districts, namely two blocks from the Wawel Royal Castle. The Italy squad have opted for a peripheral Hotel Turowka in suburban Wieliczka. At the same time Italians outfoxed the English and have taken over downtown's ultramodern Cracovia Stadium at Kaluzy street.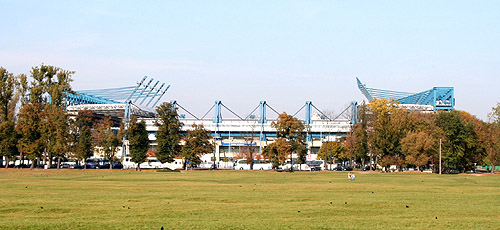 Wisla Krakow football arena adjoins the city's vast Blonia common.
Football Fan Zone.
Krakow mayor's office expects about 200,000 visitors to arrive to the city because of Euro 2012. A sizable fan zone on Krakow Blonia common, a ten minutes' walk from the Old Town historical city center, is meant to receive 30,000 football enthusiasts at once. They'd be able to enjoy live transmissions of matches shown on a gigantic screen measuring at least 100 square meters. The fan zone boasts such conveniences as eating places, pubs, souvenir stalls, playgrounds for kids, mini soccer pitches, and a VIP area. Plus toilets, first aid, and information booths. A Women Zone will offer female football fans beauty parlors and a spa.
All of the above will be suitably situated on a vast expanse of grassland flanked by Krakow's two main soccer arenas, Wisla and Cracovia stadiums.
Lodgings.
It's always advisable to book hotel in Krakow possibly early if you plan a summer visit. The same applies to Krakow hostels and the city's other accommodations such as vacation rentals, bed-and-breakfasts, guest houses, etc. Thousands of football fans will compound the usual high-season shortage of lodgings. Also, the rates may well to go up sharply with Euro 2012 approaching. A last-ditch lodging option is a campsite set up on the Wisla club's grounds, between the football stadium and a sports hall, even though the place is off limits to camper vans .
Travel to Krakow and away from it.
The city has good air, rail, and road connection with Europe and the rest of Poland. Krakow airport is Poland's second busiest and it's located just 15 kilometers from the city center. The Krakow Glowny central train station and the adjacent main bus depot are conveniently situated on the edge of the Old Town historical area. In addition to regular services there are plans for special buses and trains during Euro 2012 championship to provide football fans with transport to games, be it Poland or Ukraine.
Food
Restaurants in Krakow are plentiful and diverse. Gourmets can dine out in style in numerous fine eateries concentrated in the historic districts of Old Town and Kazimierz. Frugal visitors may choose between varied fast-food joints and inexpensive restaurants. The latter usually serve Polish food though there are also many places that boast foreign menus, Italian dishes being most popular.
Dos and don'ts during the UEFA Euro 2012 football championships.
When leaving your Krakow quarters for an Euro 2012 soccer match you need to
have your ticket with you (please remember that no replacement is possible under any circumstances, tickets lost or stolen are gone for good),

have an identity document with your photo,

have some cash with you in local currency as plastic money may be useless at the stadium.
At the same time don't take with you
cars and other vehicles because no parking is possible near the stadiums,

cigarettes and other tobacco goods as no smoking is allowed at the arenas,

umbrellas, pyrotechnic materials (including fireworks), sticks longer than one meter or thicker than one centimeter (including flagstaffs), weapons, knives, bags larger than 25 cm for 25 cm, laser pointers, drugs, alcoholic drinks, non-alcoholic drinks, banners larger than 1.5 m for 2 meter, advertising stuff (whatever that can mean), racist stuff, streamers (including toilet rolls), trumpets, megaphones, aerosols, cameras, camcorders.
The above items have been prohibited at Euro 2012 football events and may be confiscated at the entrance to the football stadium.
Krakow's selected establishments and providers of services
Any following information has been provided by respective Krakow hotels on their sole responsibility.
Accommodations - good hotels in Krakow
Lodgings - hostels in Krakow
Accommodations - rental apartments in Krakow
Krakow's leisure time
Have good time in Krakow.
---
EVENTS
Updates on current and upcoming events.
---
---