Dentistry in Krakow and available dental treatments.
More than 500 dentists work in Krakow, Poland, which makes roughly seven per every 10,000 of the city's inhabitants.
Most of Krakow general dentists as well as cosmetic dentists, orthodontists, oral surgeons, and pediatric dentists run their own practices as owners or co-owners of dental surgeries. Many of them have a second job – usually considered to be the principal employment even if poorly paid – with some public healthcare organization, the university hospital, etc. At the same time, sizable private dental clinics, employing various specialists and offering comprehensive care, have mushroomed in Krakow in the recent years and now they begin to lead the field. For instance some of them boast availability round the clock – 24 hours a day, seven days a week.
Accessibility of dental procedures in Krakow.
Both routine maintenance and expensive dental work are readily available in Krakow. From teeth whitening and braces to dentures to gum surgery to implant dentistry – the city's dentists are familiar with all the latest procedures known to the profession, including laser dentistry. Plus a typical dentist's office in Krakow can boast state-of-the-art equipment and high-quality materials.
Qualifications of Krakow dentists.
Only graduates of university-level medical schools with a specialization in dentistry may think about practicing legally as dentists in Poland. Plus they need to pass a state examination after a due period as interns. And many Krakow dentists seek further education to become consultants and eventually attain doctorate or even a university professorship.
The majority of Krakow dentists graduated from the Jagiellonian University's medical school, Collegium Medicum, former Medical Academy (Akademia Medyczna). Also most of its professors at the dentistry department as well as other members of the faculty run their own dental clinics in addition to the university job.
Typical fees for dental procedures Krakow.
On average a dentist's office in Krakow may charge 50 zlotys (an equivalent of about 12 euro) for a temporary filling and 100 zlotys for primary tooth filling. Teeth whitening may cost anything between 100 zlotys 1,100 zlotys depending on the method employed. Standard root canal treatment is 220 zlotys or so. A fee for broken tooth restoration with MOD-class filling ranges from 200 zlotys to 350 zlotys. Extraction of a tooth usually costs 100 zlotys, double the amount for the same with root separation. In most places muscle massage with laser therapy costs 50 zlotys for one visit. Firm implants start at 3,000 zlotys or so. A crown may cost anything from 200 zlotys for acrylic to 500 zlotys for cast gold to 1,000-2,000 zlotys for a telescope crown.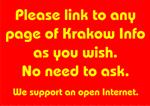 Health resorts in the Malopolska region
Basic Krakow info for visitors
---
Eating the Krakow way
It is hearty indeed.
Lodging guide to Krakow's hotels
There are 26,000-plus hospitable beds to choose from.