Poland's Most Treasured Library Is in Krakow.
The Jagiellonian Library together with its 42 branch libraries at various university units house some 4.5 million volumes of books and periodicals in addition to its priceless special collections of manuscripts (about 11,000 items, among them 2,500 medieval), early printed books (roughly 92,000 items, in that number some 2,400 issued before 1501), maps and atlases (some 8,000 items), graphic art (approximately 24,000 items), music scores (22,000 items or so), etc. Since 1940 the bulk of them has been stored in the purpose-built, pre-war modern 9-storied edifice at 22 Mickiewicza Avenue in downtown Krakow. Its new, state-of-the-art wing has doubled the building's floor space to some 150,000 sq. meters. Besides its main 3-story-high reading-room that may seat 264 it has ten other specialized reading-rooms.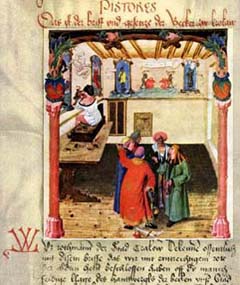 Baltazar Behem's Codex of 1505, one of the Jagiellonian Library's many marvels, duplicates the city of Krakow oldest municipal documents yet the lively miniature pictures from the daily life of artisans like the above scene at a painter's studio make it a matchless rarity.
Krakow's Indispensable Mine of Knowledge
The Jagiellonian Library is one of Poland's three national libraries meant to collect and preserve any worthwhile piece of print (and handwriting if possible). At the same time it is the oldest and biggest university library in the country. It is also Krakow's chief academic library, indispensable to the city's 150,000-plus scientists and students. And, lastly, it serves everybody as a public library.
In 1992 the Jagiellonian Library launched an integrated service system and the books acquisition as well as cataloging are automated, together with an online public catalog.
Library Rich in History
History of the Jagiellonian Library has been intertwined with the evolution of Krakow's alma mater established in 1364. The Krakow university library originated in book collections of various colleges, notably the 'Collegium Maius'. And innumerable book donations from professors, graduates, authors, publishers, booksellers and bibliophiles enriched it greatly over the centuries.
---
Krakow University
Poland's oldest university with its 6,700 faculty and over 42,000 students is the country's second largest institution of higher education and the best one.


Collegium Maius
15th-century impressive Grand College of the Krakow university where Copernicus once studied.
Krakow Old Town Historical District
Poland's prime tourist attraction and a must-see in Central Europe boasts numerous world-class monuments, charming vistas, delightful atmosphere, and the best restaurants.
Study in Krakow
It's a good place to complete or continue your studies.
Krakow's Institutions of Higher Education
---