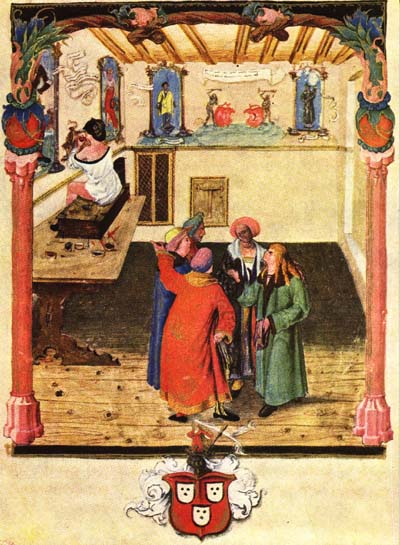 Medieval Krakow Illustrated
Baltazar Behem's Codex of 1505, one of the Jagiellonian Library's many marvels, just duplicates the city of Krakow oldest municipal documents. Yet the lively miniature pictures from the daily life of artisans, like the above scene at a painter's studio, make it a matchless rarity.
---
Jagiellonian Library
Poland's oldest library boasts 4.5 million volumes and its unique collection of medieval manuscripts and ancient books contains tens of thousands priceless items.
---
Krakow University
Poland's oldest university with its 6,700 faculty and 42,000 students is the country's second largest institution of higher education and the best one.


Collegium Maius
15th-century impressive Grand College of the Krakow university where Copernicus once studied.
Krakow Old Town Historical District
Poland's prime tourist attraction and a must-see in Central Europe boasts numerous world-class monuments, charming vistas, delightful atmosphere, and the best restaurants.
.