Cooking Fiestas of Krakow
Wide choice of good restaurants in Krakow and its rich culinary traditions has earned the city a well-deserved reputation as the food capital of Poland. Actually, the residents of Krakow relish the pleasures of the table and enthusiastically embrace any occasion to celebrate cooking. And recently the city has developed a taste for weekend-long open-air fiestas highlighting particular kind of dishes or foodstuffs. Promoted by restaurateurs and/or producers of the edibles, hyped in the press, and patronized by crowds of eager eaters, such events include cooking contests, free food tasting, displays and markets as well as concerts of music and other amusements.
Calendar of Krakow Food Festivals
Weekend preceding Easter
Malopolska Easter Flavor (Wielkanocny Malopolski Smak)
Event accompanying Krakow's Easter market in Rynek Glowny central square in the heart of the Old Town. Local producers display and sell regional food products traditionally associated with Easter: cured meats and sausages, eggs, honey, varied Easter cakes and sweets.
Organized by the government of the Malopolska province.
May
International Soup Festival (Miedzynarodowy Festiwal Zupy)
The festival of soups takes place in the Maly Rynek square. Krakow restaurants compete to produce the most delicious and ingenious borsch, zurek, broth, minestrone, chowder, and the like. Also there is food tasting plus various live performances.
Organizers addresses: Centrum Kultury Dworek Bialopradnicki, ul. Papiernicza 2, 31-221 Krakow, Poland. Phone (+48) 124150200 and 124150203, fax (+48) 124150981.
Teatr KTO, ul. Gzymsikow 8, 30-015 Krakow. Phone/fax: (+ 48) 126338947.
June
Bread Festival - Regional Products Festival
Event in the Plac Wolnica square in Kazimierz district show traditions of the Krakow region's bakers and other food producers. Market with local foods plus free tastings and open-air performances.
Organizer: Malopolska Chamber of Regional, Traditional and Ecological Products. Website www.produktyregionalne.edu.pl
August
Festival of Pierogi Dumplings (Festiwal Pierogow)
Polish stuffed dumplings, pierogi, rank high among the country's favorite dishes. Traditional fillings are minced meat or cottage cheese or wild mushrooms or sauerkraut. But an inventive chef can stuff pierogi with practically any edible, from fruits to seafood. The venue for the Pierogi Festival is Maly Rynek square, one block from the central Rynek Glowny square. Chefs compete in a cooking contest with professional jury and concurrently for votes of the public which awards its own prize by ballot. There are nearly 200,000 duplings for free tasting plus culinary shows and live music.
Organizer's address: Krakowskie Biuro Festiwalowe, ul. Olszanska 7, 31-513 Krakow. Poland. Phone (+48) 124249650, fax (+48) 124249652. Website www.biurofestiwalowe.pl
Malopolska Festival of Taste (Malopolski Festiwal Smaku)
Another food festival in the Plac Wolnica square in Kazimierz district. On a weekend in mid September an array of chefs show their mastery of cooking and prepare dishes from various parts of Malopolska Province.
Organized by Gazeta Krakowska, a local newspaper, and the government of the Malopolska province.
September
Krakow Honey Harvest – Bee-keeping Festival (Krakowskie Miodobranie - Swieto Pszczelarzy)
Event in the Plac Wolnica square in Kazimierz district includes tasting of various kinds of honey and market with honeys, beeswax, and other apiculture products. Plus live performances, contests, etc.
Organized by Krakow Downtown Beekeepers Club (Kolo Pszczelarzy Krakow Srodmiescie), phone (+48)126333777.
February, April, June, October
Najedzeni Fest
Jamboree of trend-conscious foodies and food providers. Well-know restaurants as well as innovative start-ups table their best offerings in the building of the long-defunct Forum hotel at 28 Konopnickiej street.
---
Krakow Festivals
Hardly a month passes in Krakow without some time-honored occasion for common festivities or colorful ceremony.
Krakow's Regular Culture Events
There are over fifty culture festivals in Krakow every single year.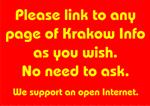 ---
Polish menu
Try traditional Polish cuisine in one of Krakow's choice restaurants. Ask for regional specialties of Krakow and the Malopolska province.
Multicultural menu
French and Chinese, Italian and Breton, Mexican and Kurdish, African, Vietnamese, Indian, etc. Myriad Krakow restaurants cater to foreign tastes, are run by expats and employ exotic chefs.
Cosmopolitan menu
There is the world standard a traveled gourmet feels at home in. Krakow's best restaurants happily satisfy the worldly tastes.
Economy class
While all Krakow restaurants occur inexpensive to Western visitors, some places are even more so.
---
Popular Krakow Dishes /Recipes/
Krupnik Barley Soup, Christmas Borsch, Krakow Duck, Zrazy Beef Rashers,
Krakow Beverages
Everybody's thirst to be satisfied.