Krakow's Museum of Aviation.
The Polish Aviation Museum in Krakow (Muzeum Lotnictwa Polskiego) has managed to assemble one of the best collections of aircraft, from the earliest aeroplanes of the 1910s to recently decommissioned jet fighters. Launched in 1964 on the site of former Rakowice-Czyzyny air-force base and airport, the museum has taken up most of their buildings and tarmac. In 2010 a very modern exhibition hall has been added to the complex.
The premises of the Krakow Aviation Museum are popular venue for open-air events, from pop festivals to varied fairs.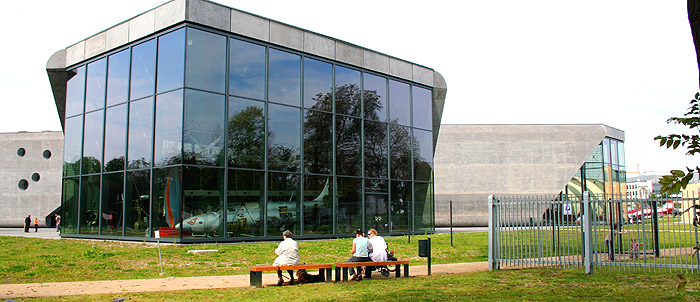 Visiting the Aviation Museum in Krakow.
The museum's collections are divided between four buildings and the former airfield tarmac where the big aircraft are displayed. And some other bulky exhibits, such as missile systems, are also shown in the open air among buildings.
The Museum Main Building (Glowny Gmach Muzeum) is a concrete structure whose floor area totals 3,378 square meters. It contains an exhibition hall, an education hall, a screening room, a library with a reading room, an internet cafe, and a cloakroom. The exhibition area of 1,022 sq. meters accommodates 21 aircraft including France's Bleriot 11 of 1909 as well as some of the prominent machines in the history of Polish aviation. The 588-sq-meter education hall is outfitted with a flight simulator available to the public, multimedia presentations, interactive toys, information booths, and rows of recliner seats mimicking an airplane cabin.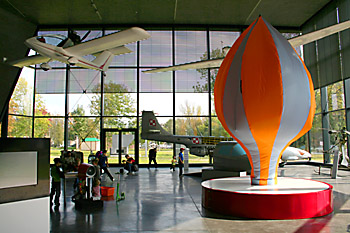 The Great War Aircraft Exhibition, situated in an old warehouse, consists of the museum's most cherished possessions – the early planes of the first two decades of the 20th century. The best part of them once constituted the core of Hermann Goering collection.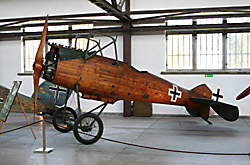 Main Exhibition Hangar contains a medley of aircraft from old gliders to WW2 fighters to air ambulances.
The building behind the great hangar houses two exhibitions: one called 'Stories of History', the other showing 'aero engines'.
Next to the crumbling tarmac packed with airplanes and choppers a pair of smaller hangars have been converted to venues for temporary exhibitions.
Location and accessibility of the Museum of Aviation in Krakow.
The aviation museum is situated almost in the middle of Krakow, some three kilometers east of the city's Old Town historic center. It sits on the edge of Park Lotnikow Polskich, at some distance from Jana Pawla II avenue, a traffic artery connecting Krakow's downtown with the city's important Nowa Huta district.
GPS coordinates N 50 04' 37'' E 19 59' 38''.
One may get near the Krakow Aviation Museum by tram – numbers 4, 5, 9, 10, 15, and 40.
The museum provides free car park for the visitors.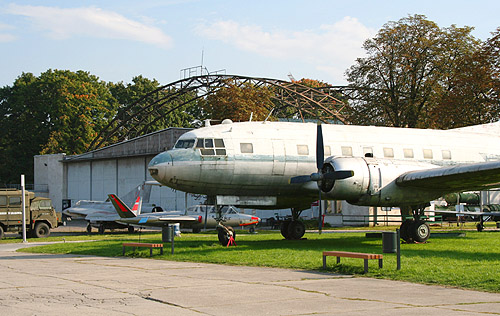 Collections of the Krakow Museum of Aviation.
Airplanes (in alphabetical order): AERO Ae-145, AERO L-60 Brigadyr, Albatros B.II, Albatros C.1, Albatros H.1, Antonov An-26, Avia B.33 (lic. Il-10), Aviatik C.III, AW-9, Bleriot XI, Bucker Bu 131 B Jungmann, Cessna A-37B Dragonfly, Cessna UC-78A Bobcat, Cuckoo (a private construction), Curtiss Hawk II, Dassault Mirage 5 BA, De Havilland Tiger Moth Mark 2, DFW C.V, Farman IV, Fouga CM.170 Magister, Friedrich Etrich Taube, Grigorovich M-15, Halberstadt Cl. II, Iliushin (VEB) IL-14 S, Ilyushin IL-28R, J-1 Przasniczka (the weaver), J-3 Eagle (Orzel), LET L-200 A Morava, LFG Roland D.VI, Lisunov Li-2 (lic. DC-3), Lockheed F-104S ASA-M Starfighter, LVG B.II, Messerschmitt Bf 109G-6, Mikoyan-Guryevich MiG-15, Mikoyan-Guryevich MiG-15bis, Mikoyan-Guryevich MiG-17F, Mikoyan-Guryevich MiG-17PF, Mikoyan-Guryevich MiG-19PM, Mikoyan-Guryevich MiG-21, Mikoyan-Guryevich MiG-21 F-13, Mikoyan-Guryevich MiG-21 MF, Mikoyan-Guryevich MiG-21 PF, Mikoyan-Guryevich MiG-21 PFM, Mikoyan-Guryevich MiG-21 R, Mikoyan-Guryevich MiG-21 U, Mikoyan-Guryevich MiG-21 US, Mikoyan-Guryevich MiG-23MF, Mikoyan-Guryevich MiG-29UB, North American T-6G Texan, Northrop F-5E Tiger II, Piper L-4A Grasshopper, Polikarpov Po-2 LNB, PWS 26, PZL M-15, PZL M-4 Tarpan, PZL P.11c, PZL S-4 Kania 3, PZL Szpak 4T, PZL-105 Flaming (flamingo), PZL-106A Kruk, PZL-130 Orlik, PZL-130T Orlik, RWD 13, RWD 21, SAAB AJSF 37 Viggen, SAAB J 35J Draken, SEPECAT Jaguar GR.1, Sopwith F.1 Camel, Stinson L-5 Sentinel, Su-22 M4, Su-22 UM3k, Suchoj Su-7 BKL, Suchoj Su-7 BM, Sukhoi Su-20, Sukhoi Su-22 (NATO's Fitter K), Sukhoi Su-7, Supermarine Spitfire LF Mark XVIE, TS-11 Iskra Bis, TS-11 Iskra bis B, Tupolev Tu-134A, Tupolev Tu-2S, WSK An-2TD, WSK Lim-1, WSK Lim-2, WSK Lim-5, WSK Lim-5P, WSK Lim-6bis, WSK Lim-6M, WSK Lim-6MR, WSK MD-12F, WSK SB Lim-2, WSK SB Lim-2A, WSK TS-8 Bies, WSK TS-9 Junak 3, Yakovlev Yak-11, Yakovlev Yak-12, Yakovlev Yak-17UTI (Yak-17W), Yakovlev Yak-18, Yakovlev Yak-23, Yakovlev Yak-40, Zlin Z-26 Trener.
Helicopters (in alphabetical order): Bell CH-136 Kiowa, JK-1 Trzmiel (Bumblebee), Mil Mi-4, Mil Mi-4 A, Mil Mi-4 ME, SP-GIL, Sud-Aviation SE-3160 Alouette III, WSK Mi-2, WSK Mi-2 CH, WSK Mi-2 M, WSK Mi-2T, WSK Mi-2URP, WSK SM-1 (Mi-1), WSK SM-2.
Gliders (in alphabetical order): IS-1 Sep (Vulture) bis, IS-3 ABC, IS-4 Jastrzab (Hawk), IS-A Salamandra (Salamander), IS-B Komar (Mosquito) 49, IS-C (DZD-C) Zuraw (Crane), Otto Lilienthal's hang glider, PW-2D Gapa, Swift S-1, SZD-10 bis Czapla (Heron), SZD-12 Mucha (Fly) 100, SZD-15 Sroka (Magpie), SZD-17X Jaskolka (Swallow) L, SZD-18 Czajka (Lapwing), SZD-19-2A Zefir 2A, SZD-21 Kobuz 3, SZD-22 Mucha Standard, SZD-25A Lis (Fox), SZD-43 Orion, SZD-6X Nietoperz (Bat), SZD-8 bis Jaskolka, SZD-9 bis Bocian (Stork) 1A, WWS Wrona (Crow) bis, WWS-2 Zaba (Frog).
Motor-glider: HWL Pegaz (Pegasus).
Aircraft engines (in alphabetical order): AI-25, Antoinette V8, Argus As-5, Argus As-7, Argus As-8, ASz 82 FN, Austro-Daimler DM 200, Avia M-332, Avia M-337, Bentley BR-1, BMW 132 Z, BMW 801 D-2, BMW III a, Bramo 323 Fafnir, Breda (lic. SPA 6a), Bristol Cherub I, Bristol Hercules 264, Bristol Pegasus X, Bristol Siddeley Hercules Mark 264, Clerget 9B, Daimler-Benz DB 600, Farman 12 WE, Farman 9 EFR, Genet Major IV, Gnome-Rhone 9Ab Jupiter, Gnome-Rhone 9KRd Mistral, GTD-350, Hirth HM-504A, Hirth HM-508, Hirth HM-60, Hispano-Suiza 12 X, Hispano-Suiza H Type 82, Isotta Fraschini Bianchi V 4B, Jumo 205, Junkers Jumo 205, Junkers Jumo 211, Junkers L 55 Hohenmotor, Junkers L 8, Klimov WK-105 PF2, Klimow M-103, Kroeber M 4, Le Rhone C, Liberty 12, LIT-3 (lic. Iwczenko AI-26), Ljulka AL.-7, Lorraine Dietrich 12 EB, Lorraine Sterna Typ 72 C, Lorraine-Dietrich LD 400, M-11, Maybach Mb IV, Mercedes Benz F-7502, Mercedes D III, Mercedes D IV a, Mercedes D IV b, Mercedes E4F, Mikulin AM-35A, Mikulin AM-38 F, Mikulin M-34, Mikulin M-42, NAG C III, Packard 2025 I A, Peugeot 8, Praga Doris 208B (Doris BI), Praga Doris D, Pratt & Whitney R-1830 Twin Wasp, PRD-80, PZInz. Junior, PZInz. Major Typ 4, PZL pegaz 20, PZL Pegaz II M 2, PZL Pegaz VII, PZL Pegaz VIII, PZL WN-3, PZL-3 SR, R 11F2SK-300, R-11, R-13, R-27, RAF 3A Napier, RAF 4 a, RD-10 A, RD-500, RD-9B, Renault 12 Fe 300 CV, Renault 6Q11, Rolls Royce Kestrel II, Rolls Royce Merlin Mark XX, Rolls-Royce Eagle Mark IX, Salmson 9 AD, Salmson Z-9, Siemens-Halske Sh-14, Siemens-Halske Sh-III, SO-1, SO-3, Sunbeam Mohawk, Szwiecow ASz-21, Szwiecow ASz-62 IR (kpl. Z. N.), TG-16, The Polish Bristol Engines, W-3, Walter HWK 109-501, Walter HWK 109-507, Walter Minor 4-III, Walter Mistral K-14, Walter WK-507, Wk-1A (Lis-2), Wk-1F (Lis-5), Wright Cyclone 14 R-2600-23, Wright Whirlwind R-975, WSK Lis-2, WSK NP-1, WSK SO-1.
Anti-aircraft missile systems (in alphabetical order): S-125 Neva (NATO's SA-3 Goa), S-75 Dvina (NATO's SA-2 Guideline), S-75M Volkhov (NATO's SA-2C Guideline).
Tickets and opening hours of the Polish Aviation Museum in Krakow.
A regular ticket costs 15 zloties (PLN) and reduced rate is seven zloties. On Tuesdays there is free admission to permanent exhibitions.
The Krakow Museum of Aviation stays closed on Mondays and it may also close for some major holidays, notably Christmas, New Year, and Easter. Otherwise it's open from 9 a.m. to 7 p.m.
Contact information for the Museum of Polish Aviation in Krakow.
Postal address: Muzeum Lotnictwa Polskiego, Al. Jana Pawla II 39 , 30-969 Kraków 28, skr.poczt. 79, Poland. Fax fax (+48) 126409960. Phone numbers (+48) 126409961, (+48) 126424070, and (+48) 126424071. Email info@muzeumlotnictwa.pl Website www.muzeumlotnictwa.pl
---
MOCAK - Museum of Contemporary Art in Krakow
---
---
Krakow
Poland's prime tourist attraction and a must in Central Europe boasts numerous world-class monuments, charming vistas, delightful atmosphere, and the best restaurants