Round the Rynek Glowny Central Square of Krakow's Old Town.
All Krakow roads lead to the city's central Grand Square (Rynek Glowny) which proves to be one of its greatest attractions for the residents and the visitors alike.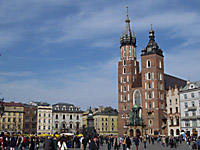 The 13th-century Gothic basilica of the Virgin Mary's (Bazylika Mariacka) towers above the huge plaza. It's a must to enter and see Veit Stoss' great altarpiece, the 15th-century masterpiece of monumental sculpture. The smaller 1338 St. Barbara's church right behind the basilica used to be a mortuary first.
Farther clockwise round the Grand Square, at the Sienna Street corner, one finds a large gray building (Szara Kamienica) dating back to the 13th century which got its Renaissance form in the 16th century. The adjacent house of 1561 at 7 Grand Square served as Poland's first post office in the 16th and the 17th centuries. The 16th-century house at no. 9 is topped with an ornate 9-meter attic with relief statues of circa 1560. The first pharmacy in the House Under a Golden Head at no. 13, now turned into a shopping arcade, opened in 1408.
The ground floor of the stately Hetmanska building at 17 Grand Square contains one of Krakow's oldest interiors, the 14th-century Gothic great hall (now a bookstore).
The 1718 fresco Madonna adorns the front of the 16-century House Under Picture at no. 19. It adjoins an aristocratic palace at no. 20 of the 16th-century Renaissance turned the 17th-century Baroque and neo-classic since 1783 with a Louis XVI facade.
More nobility palaces one finds on the Grand Square's western side at no. 27 (Pod Baranami), no. 30, no. 34, and no. 35 (Palac Pod Krzysztoforami, i.e. "Under St. Christopher"). The first one dates back to the 16th century and was thoroughly rebuilt in 1860 (its cellar is home to the cult Pod Baranami cabaret company since 1956). The last one was erected in 1640 as an opulent Baroque residence of the 17th-century richest Polish aristocrat and now it shelters the City of Krakow Historical Museum.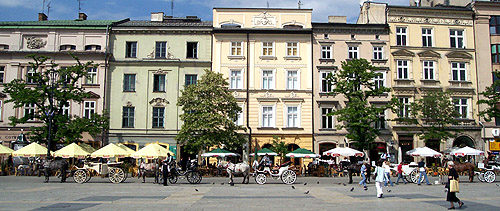 The ground floor cafe at 38 Grand Square, on its northern side, was established in 1832 and remains the city's oldest. The corner house at no. 42 was build as the 16th-century Renaissance palatial residence for one Jan Boner, a patrician banker of three Polish kings, and rebuilt as a neo-renaissance bourgeois residence house in 1878. The 16th-century House Under Eagle (Pod Orlem) at 45 Grand Square boasts a rare gothic-renaissance facade of red brick. The ornate rococo facade of the last building in the row, the Margrave's House (Kamienica Margrabska), dates back to the 18th century.
---
Krakow on Foot
The best way to enjoy old Krakow is afoot.
Stroll through Krakow's Kazimierz District
---