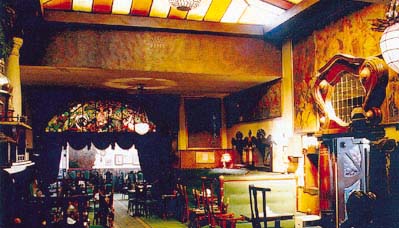 Jama Michalika Cafe
The original colorful Art Nouveau interior of the Jama Michalika coffee shop in Krakow at 45 Florianska street should suffice to attract visitors. And its name reverberates in Polish history and culture. The cafe has been in business since 1895, while its present decor dates back to 1908. The place was immortalized by patrons who frequented it at the turn of the 20th century. The greatest artists, actors and men of letters of the period known as 'Mloda Polska' or Young Poland used to gather here for a talk and amusement over a cup of coffee or a glass of absinthe. Their caricatures still adorn the walls. Here they also created the legendary cabaret, "Zielony balonik" (Little Green Balloon) in 1905: born as sheer fun for their originators it became the paragon of all literary cabarets in this country. The picturesque hideout seems to keep the time frozen since the days when the 20th century was young and innocent. And for most of Polish intelligentsia Krakow's Jama Michalika cafe remains a sanctuary of Bohemian esprit.
---
Grand Square
Krakow's central Grand Square (Rynek Glowny), the largest plaza of medieval Europe and one of the world's finest with its spectacular landmarks, has remained the hub of the city since the 13th century.
Palace of Arts
Temple of Fine Arts from the turn of the 20th century.
Bunker of Arts
Bulwark of the newest art.
International Culture Center
Exhibitions, conferences, and much more.
Pod Baranami Cabaret
Poland's cult venue for high-brow entertainment.
Manggha Japan Culture and Technology Center
Fine example of the world's newest architecture is the scene of numerous cultural events, and most have something to do with Japan.
Center for Jewish Culture
19th-century prayer house turned modern cultural venue safeguards and presents heritage of Poland's Jews.
Villa Decius
Almost perfect Renaissance Italian villa shelters Krakow's European Academy.