Holiday apartments in Krakow, Poland.
Whether you do not need full service or you do need full privacy, and whatever other reason you'd rather not stay in a hotel, renting a holiday apartment is a viable lodging option in Krakow. Self-catering vacation rentals of any size are readily available in the city all year round.
Prices of vacation apartments in Krakow
Accommodation in a rental apartment is less expensive than most good hotels in Krakow. The city's high-season daily rates for holiday apartments range from euro 35-55 for a two-bed studio suite to euro 70-120 for a three-bedroom flat. One-week rent may amount to euro 200-350 and euro 350-550, respectively. And you might get a real bargain when you want to stay longer, notably off season.
Quality rental vacation apartments in Krakow
The city's short-term apartments vary immensely from one another. Usually, they are converted former tenements or condos rather than purpose-built. Also, converted attics and the like make up a substantial part of the market.
Rental vacation apartments in Krakow are usually located in the downtown area but it doesn't necessarily mean an attractive neighborhood.
Kitchens with electric ovens, refrigerators, and basic cooking utensils seem standard as well as cable or satellite TV.
The minimum stay is one night.
A typical operator usually runs three to five rental apartments of different type, size and price tag. Typically, they are scattered around the city but in recent years a number of downtown tenement buildings have been converted into clusters of serviced holiday apartments, sometimes with a 24-7 reception/concierge desk on the premises. If possible, before booking a self catering flat in Krakow it's advisable to see it, examine its situation, and inquire about conditions, extra charges, etc.
Renting Krakow flats for a longer period
Those who want to rent an apartment for months or years should turn to a real-estate agent or comb newspaper classifieds in the 'to let' section. In Krakow virtually the entire property market consists of flats and houses owned privately by individual landlords. Reasonable if modest flats are let for anything between euro 300 and euro 600 per month.
Krakow's selected rental apartments for a short stay.
Any following information has been provided by respective establishments on their sole responsibility.
Links: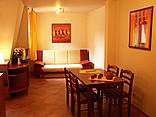 Accommodation Apartments Book Easy with inTurs.net - cheap and exclusive offers
Office address: 29/1 Radziwillowska street. Phone/fax: (+48) 12 444 65 45. Email: krakow-info@noce.pl
We invite you to our year-round self-catering accommodation and luxurious holiday apartments located in the very heart of the city centre. Thanks to their high standard, great comfort and convenience as well as comparatively low prices, the self-contained flats are an excellent alternative to what hotels provide. All of them are equipped with a kitchen or kitchenette. All of them offer a unique atmosphere of "places with soul". For more information visit our website.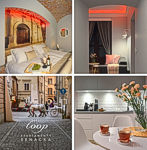 Toop Apartments
Address 46 Grodzka street and 11 Senacka street. Postal address ul.Grodzka 46/ Senacka 11, 31-002 Kraków, Poland. Phone (+48) 510200400. Email: toopapartamenty.krakow@gmail.com Website www.toop.com.pl We invite you to the luxury apartments Toop, which are located in the heart of old Krakow, on a quiet Senacka street. The design of the apartments combines tradition with modernity and high standard of equipment which provide you comfort and enjoyable stay in Krakow. Location in one of the most charming and exceptional places in Krakow, near the Royal Castle and the Main Market Square, will be conducive to walking and getting to know unique atmosphere of historic Krakow.
---